A February 2021 survey of 83 general counsel (GC) revealed that their top corporate governance and board management goals were environmental, social and governance (ESG)-related, with board education and director rounding out the second and third priorities.
"The GC is often the voice of the different corporate stakeholders in the boardroom," said Drew Tanenbaum, director, advisory in the Gartner Legal and Compliance practice.
He pointed that ESG topped the list because of heightened expectations of corporate behaviour from different stakeholder groups.
"ESG has become the process for considering different stakeholder expectations," he added.
Gartner predicts that the next wave of transformation that organizations face will have a societal focus, which means that, going forward, long-term value creation will require a corporate focus on society. This is driven by numerous broad geopolitical themes and stakeholder expectations around things, such as diversity, equity and inclusion (DEI), and sustainability (see Figure 1).
Figure 1. The Next Wave of Transformation Focuses on ESG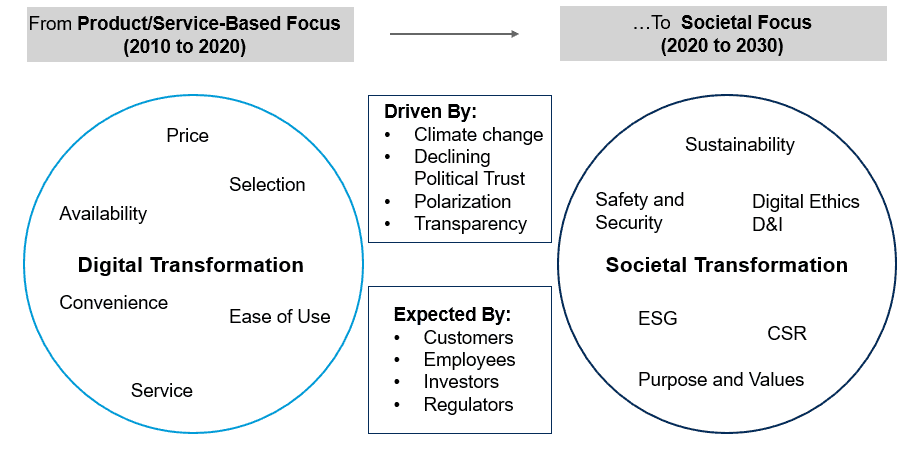 Tanenbaum said most organizations are making some attempt to assess the strategic impact of ESG. "But far fewer are going to the next level by setting clear ESG-related operational goals or otherwise embedding ESG into corporate decision making," he added.
While GC tend to be successful at bringing new information to the board, they self-report as less effective at driving action. However, as organizational transformation shifts to a societal focus, board action is required to ensure that directors have the skills, knowledge, experience and processes necessary to oversee this shift, and GC are often the executive best suited to help.
What is driving a need for board education
Board education and director training, respectively, were the second and third most common priorities for GC. This reflects a feeling among GC that their board lacks the skills to best navigate the current environment their organization faces.
"It's an intuitive solution to the problem: we need more or different skills, let's get some training. But actually, GC and the board in general need to see any skills deficits they may have as a larger lifecycle problem rather than as just a lack of training," said Tanenbaum.
To make the biggest impact in increasing the board's readiness for the societal transformation that is ahead means thinking about how board evaluations can uncover skill, perspective and process gaps, that feed into director selection.
GC must also look at refreshment that is supplemented with training in an ongoing lifecycle. These are aspects that are driven by the need for specific skills and perspectives rather than by outmoded selection criteria.
Board evaluations in their current form often don't assess individual director skills, so it's hard to pinpoint where the worst deficiencies lie. It is difficult to remedy this through training because over half of organizations do not have any requirement for annual director training.
Tanenbaum said too often board evaluations are a check-the-box exercise, and director tenures are so long that they inhibit board refreshment.
"The skills the board needs for the next 10 years likely won't be found in the same old places. All of these factors play a part where boards have become stagnant and lacking in the skills they need to guide the organization, and new thinking is required to break out of old patterns," he concluded.