For more than a decade, telecom service providers have been struggling to solve declining average revenue per user (ARPU). Local carriers have adopted a multi-prong product strategy, including content delivery channels, e-commerce platforms, and even payment gateways.
As with many parts of Asia, mobility, social media and the Internet have and continue to change the lives of consumers and businesses in the Philippines. According to We Are Social, Philippine mobile subscription penetration stood at 124.2 million (116%) in January 2019. Both social media and Internet usage stood at 76 million or 71% penetration in the same period.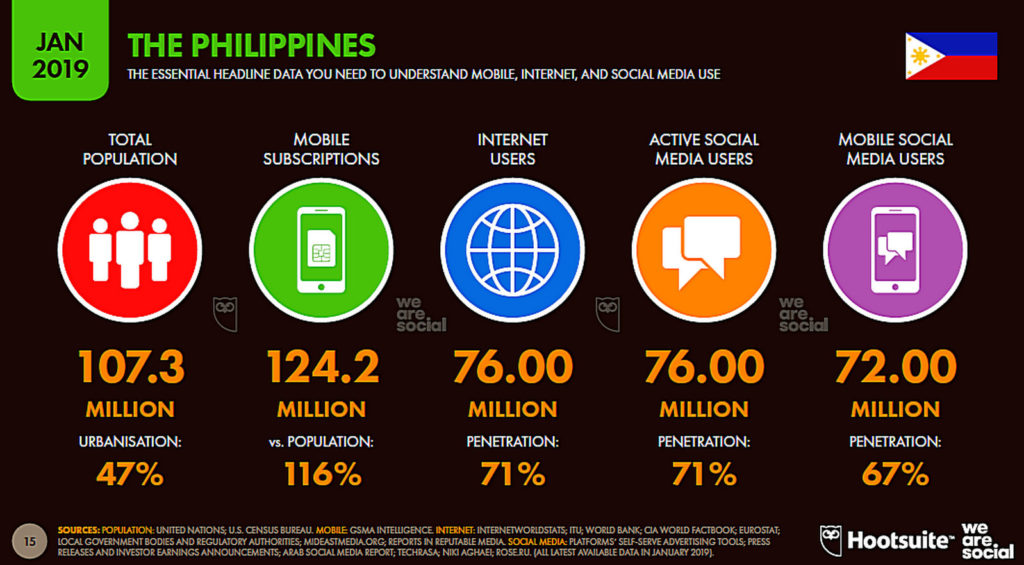 Speaking at the 2019 Cloudera Analyst Conference, Gil B. Genio (photo below), chief technology and information officer & chief strategy officer, Globe Telecom, stressed that the Philippines, like other developing markets in Asia, is largely a pre-paid SIM market, meaning no unlimited data plans.
"We are a 97% pre-paid market, with a Gig of data priced between US$0.50 to US$0.75. This poses several data-related challenges to the company playing in a largely pre-paid daily-SKU market," he noted.
With no national ID in place for its citizenry, Globe had to infer a lot of 'stuff' about its customers.
"As a result, there is no single source of truth, data storage costs continue to soar as do data warehousing appliances. The very large datasets and legacy systems also presented data model limitations and performance issues," he continued.
Through its partnership with Cloudera, Genio revealed that the company now has a single source of truth – one that is explainable and traceable. Analytics is now part of the company's DNA - having gained the ability to do enterprise-wide self-service, advanced analytics use case, real-time recommendations, monetise data, and improved fraud detection.
FutureCIO spoke to Genio on the company's data transformation journey.
At what point in the past did you deem it important to implement a big data management solution?
Previously Globe had experimented with business intelligence using a traditional data warehouse. However, it soon became clear that this approach did not take advantage of the massive amounts of real-time data that is typically found in the telecom business.
We took a strategic decision to redefine the architecture we needed, including identifying the streams of data that we needed to ingest, and the different types of use cases the organisation would require. This paved the way for us to deploy our first on-prem Hadoop infrastructure.
What is important is that we ingested both network and IT data.
What made the company decide on a Cloudera solution?
Following the decision to deploy an on-prem Hadoop solution, we soon discovered that the technical skills we had internally were somewhat limited. It was then that we invited Cloudera to help us put it all together.
What has been your biggest learnings from your data management journey?
First and foremost, understand where the data is coming from, what are its limitations, know what attributes of the data is needed, make sure that your data dictionaries (catalogues), etc.
Second, there needs to be a good interaction between the technical and business teams in the company. This includes debating options that could have budget implications versus business targets. Technical teams need to be advocates of what is possible with the technology at hand. They need to be able to provide guidance and recommendations to the business on what is possible with the data and technology on hand.
In what areas did you discover the big data management solution not fit for purpose?
Usually, it is about what tool to use for what purpose. You need some technical expertise to understand what kind of technology to apply for the goal that you're trying to get to.
Can you share the ROI for the big data management solution?
We don't publicly disclose the numbers but the way we have set this up is that there are what we call service delivery domains. For example, we have a service delivery domain that takes care of a real-time recommendation engine. Every year, their KPI is typically with respect to Delta revenues (i.e., incremental revenues) but this KPI is shared between the business and delivery sides. Suffice to say that the business is incredibly happy about the Delta revenue that is generated every year.
about the Delta revenue that is generated.
What is your advice for other companies looking to implement a big data management solution?
I think, first of all, you need to understand first what your [data] sources look like, are they real-time, are they transactional? If you understand where all the data sources are coming from, then you can begin to figure out like what is the use of that [data] to your business. You can then start to think of use cases for the data you have on hand.
Once you start imagining use cases against the data, can you exercise your imagination in terms of what is possible? The sheer amount of data typical organization collects is just enormous. If people can just begin to think about a subset of that and imagine downstream what they can do with it, I'm sure everybody will say "of course I need to get into analytics.
Can you describe the competitive landscape and how you see data driving competitive advantage for Globe?
The Philippines is largely a prepaid market. Despite the duopoly, it is intensely competitive. We used to be just one-third revenue market share. Now it's up to 56 [percentage] and we want to keep it that way despite the competitive intensity. We have a threat in the form of a new player coming in as well. And, of course, all of the price points are all coming [down] as people want more while paying the same dollars every month or every day.
Secondly, from a typical customer perspective, given it's a largely prepaid market, you need rapid development. The days of 18-36 months of product development are gone. You have to adapt agile methods to shorten product life cycles and you have to adopt a much more modular microservices type. APIs, cloud, those are all enablement tools, they help you get things done faster.
It's important to note that the sources of revenue for a telco are probably the same for every telco. The difference lies in whether we can discern more from the same sets of data and use them properly. This is a great differentiator.
With respect to classic marketing functions, our ability to fight the daily SKU battle and provide even unique use cases, like air time or recharge loans for example, those things make customers thrilled to be with Globe. Those have real positive benefits for the company.
The [hypothetical] shortest life cycle of a product release is one day. Our dream is to get to a point where we can develop a new product today and launch it tomorrow. Obviously, this is not going to happen but anything that gets us closer to that versus the 18 to 36 months is a victory.
To use my favourite proverb "when faced with a hungry lion in an African Savanna, you don't really have to do anything other than run faster than the other guy. And the only way to run faster than the other guy [competitor] is through the clever use of the data that a telco has. We have so much but we do so little about it.