Government IT spending in Asia Pacific is predicted to grow annually by 8% reaching the value of US$151 billion by 2025, as 900 million citizens are expected to join the online community in the next three years.
This is one of the key findings of a research study released last month by Deloitte, which seeks to provide insights into how governments across the region are creating a digital experience for citizen services and how can they shape digital transformation to meet changing citizen expectations.
Entitled "Digital Smart: Advancing digital government for citizens in the Asia-Pacific", Deloitte surveyed - between March and April this year – over 3,800 citizens across seven countries, including Australia, Singapore, Indonesia, Vietnam, India, Japan, and South Korea. The research study was commissioned by VMware.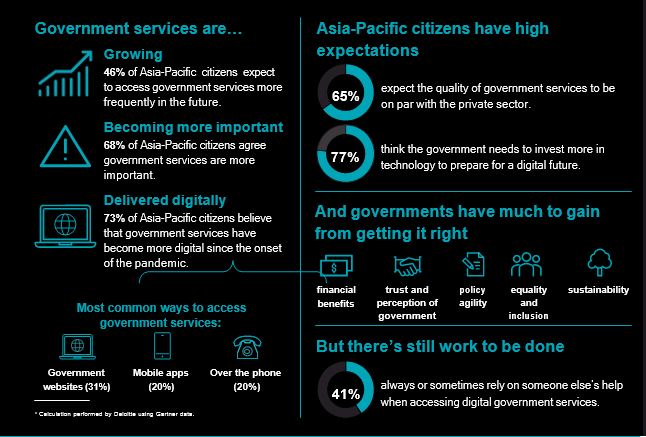 In the midst of the COVID-19 pandemic, the study found that found that the use of in-person government services was cut by 50% across APAC nations in the last two years, and more than three quarters or 77% of citizens now primarily use a digital platform to access government services.
"The return on investment for digital government services is very significant. It can include positive citizen experiences with digital services, improved perceptions of, and trust, in governments, greater social equality and inclusivity, reduced carbon emissions, possible financial savings, and more responsive governments when policies need to change," said John O'Mahony, Deloitte partner and principal report author.
Below are some of the country highlights from the report:
Singapore: 84% of Singaporean respondents expect to access government services the same or more frequently in the next five years and 76% agree or strongly agree that government needs to invest more in technology to better prepare for the future.
Vietnam: 85% of respondents in Vietnam are willing to learn new digital skills or use a new platform and 80% expect to access government services the same or more frequently in the next five years.
India: Respondents in India are the most likely to say that a positive experience using online government services will improve their trust in government and currently, 89% are more willing to learn new digital skills or use a new platform.
Indonesia: 81% of Indonesian respondents are more comfortable engaging with digital technologies, and notably, government websites have replaced in-person services as the most common medium when accessing government services today.
South Korea: 90% of Korean respondents expect to access government services more frequently in the next five years. The report finds that South Korea is ranked 1st globally on the World Bank GTMI and is recognised as a GovTech world leader with a score of 98 out of 100.
Japan: 90% of Japanese respondents expect to access government services more frequently in the next five years and only 27% expect the quality of government services to be the same as services offered by the private sector.
Australia: 82% of Australian respondents expect most government services to be available online over the next five years and look forward to a more integrated experience. 55% of Australians are willing to provide personal data if it makes accessing services easier. Data security is also top of mind for Australians when accessing government services.
Governments face challenges ahead to meet online expectations
Deloitte said in the study that 41% of people are struggling to access digital services on their own, with a lack of basic digital skills and shortfalls in digital infrastructure. What's more, 67% of respondents expected the quality of government services to be on par with those offered by the private sector.
With 900 million new internet users expected to be added to the seven countries included in the survey by 2025, the need for investment in digital services by governments continues to grow.
Overall, the report said there are ongoing challenges for government ahead. With the need to respond quickly to new demands and potential unexpected threats, governments need to proactively invest in digital in order to become future-ready.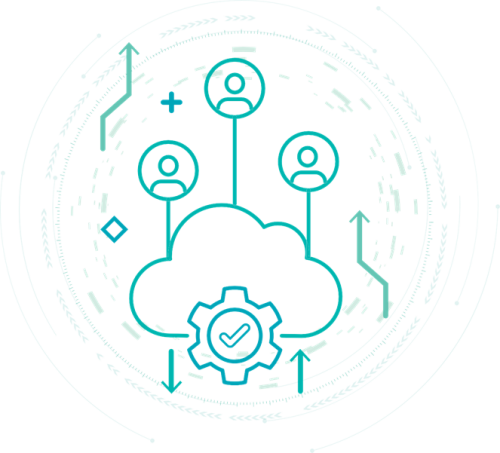 There will be many ways which governments can improve the delivery of digital services. Importantly, Deloitte advised that governments should aim to:
Embed a citizen-customer mindset: Shift from designing services based on government requirements to having the citizen experience as the focal point.
Plan for digital inclusion for all: Strengthened access of services for citizens of all ages, abilities and economic backgrounds.
Drive integration across government agencies: To achieve a seamless 'one-stop shop' customer experience for citizens.
Pilot and test initiatives iteratively: To identify and address risks early.
Build up the right internal capability: Ensure the right skillsets are available in the public sector workforce to meet future digital services demand.
Get the fundamentals in place: Aim to achieve ease of access and use of digital government services for citizens, and have the right cloud strategy to enable teams to have the agility, scalability and speed to deliver services for citizens.
Sylvain Cazard, senior vice president and general manager, Asia Pacific and Japan, VMware said: "It's clear from the Deloitte research that citizens expect the same level of services – and quality – as those delivered by private companies or organisations. Service delivery in terms of multi-cloud infrastructure as well as modern containerised applications and services are the way forward, so governments also need to align thinking and resourcing along these major trends to meet their citizens' needs."