They say hindsight is 2020. I guess IDC is applying this rule in its IDC APEJ Quarterly Enterprise Infrastructure Tracker 2019Q4.
The analyst has adjusted its enterprise infrastructure forecast for Hong Kong market downward from 12.4% to -3.2% citing the US-China Trade War, social unrest, and the COVID-19 pandemic, as drivers of this trend.
These disruptions have driven enterprises to reassess their business continuity planning in Hong Kong. It is also inevitable to see some enterprises moving their growth plan out of Hong Kong. With the COVID-19 outbreak end of January this year, Hong Kong market continues to face bigger threat and uncertainties ahead.
Figure 1: Hong Kong Enterprise Infrastructure Market Value Forecast, 2019Q4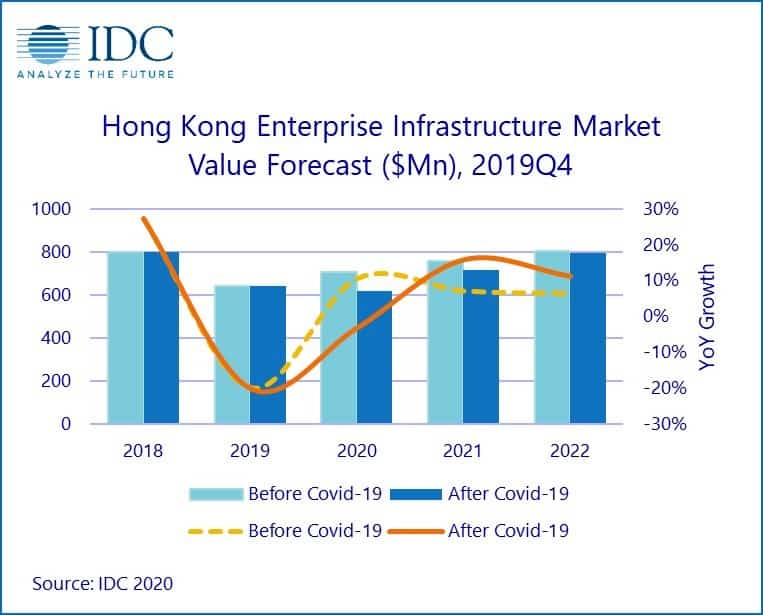 Downward trend – no end in sight
Hong Kong server market experienced a decline of more than 20% in 2019, given the stress it has experienced politically and economically. Major global and regional banks, and global giant hyperscalers, invested significant amount in 2018 were not seen to be spending on a similar level in 2019.
IDC initially expected a double-digit growth in 2020, assuming that Hong Kong market recovered from political and economic challenges and continue to strive for business continuity. However, the COVID-19 outbreak has made the recovery journey even tougher as many organizations were forced to stop operating in the office, and factories were asked to shut down – significantly impacting the supply chain.
Enterprises that are unable to handle work at the office are turning to cloud resources for solving business problems and ensuring business continuity. Overall server market is expected to be flat in 2020.
Overall storage market has been revised downward from flat to double-digit decline in 2020, in which the hyperconverged infrastructure (HCI) market is expected to grow at the cost of traditional 3-tier architecture.
When the sun comes out
2021 is expected to be a recovery period from COVID-19, and the HCI market is expected to grow even stronger.
The strong growth is not only driven by the spending resumed by enterprises but also additional workload and use cases captured by HCI. The social distancing policies by the government and work from home practices by the enterprises will set a normal on how the business is being carried on under a complex environment.
These regulations and practices during the COVID-19 pandemic are promoting more virtual and remote workplaces driving the demand for HCI. Enterprises will explore more use cases on HCI to further improve their agility to cope with the increasingly complex IT environment in the future.
"The future enterprises are the ones that stand out amid these disruptions and resound with stronger digital resiliency. Next generation infrastructure is a pillar enabling future enterprises," says Wendy Mok, senior market analyst, Enterprise Computing Group at IDC Asia/Pacific.
"Vendor community should ensure the wellbeing of their ecosystem so to enable their customers transforming into future enterprises at the time like this. Being transparent and flexible are the critical attributes clients are currently looking for," Mok concludes.