The term "core banking" sums it up what it means – the heart of any banking operation. These are mission-critical platforms from which stands (or sits) most of a bank's core business. These are million-dollar software built over decades of banking practices and regulation.
Every millennia (pun intended) these get updated (more liked tweak) and only when a bold new leadership comes in that the bank will experience a modernisation effort. The successful entry of digital-first challenger banks have caused some turmoil within the banking practice which has trickled down to vendors selling these core software systems, but even then the approach taking by many rely main on the use of application program interface (APIs) and data abstraction to mask what are still largely old-school technology.
IDC Financial Insights says no vendor has taken the exact same path, and how they developed new releases of their core banking system depends on when they were first launched and the technology available at the time.
"A new breed of digital core banking systems built on and using the technologies of our time exists, making migration easier, with the agility to continuously evolve core banking systems as needed. These new propositions effectively future-proof the core," said Michael Araneta, associate vice president at IDC Financial Insights Asia/Pacific.
To tap these new capabilities IDC Financial Insights has developed a digital core banking framework and compares four digital archetypes for processing digital transformation (DX), regardless of which core banking generation is being used currently.
Four digital archtypes
IDC has defined four digital archetypes used with core banking in support of DX.
The four archetypes generally align with what generation core is currently being used and are defined as follows in the order of least to most robust for DX: digital skin, digital interface, digitalized core, and organic digital core.
Figure 1: Digital core archetypes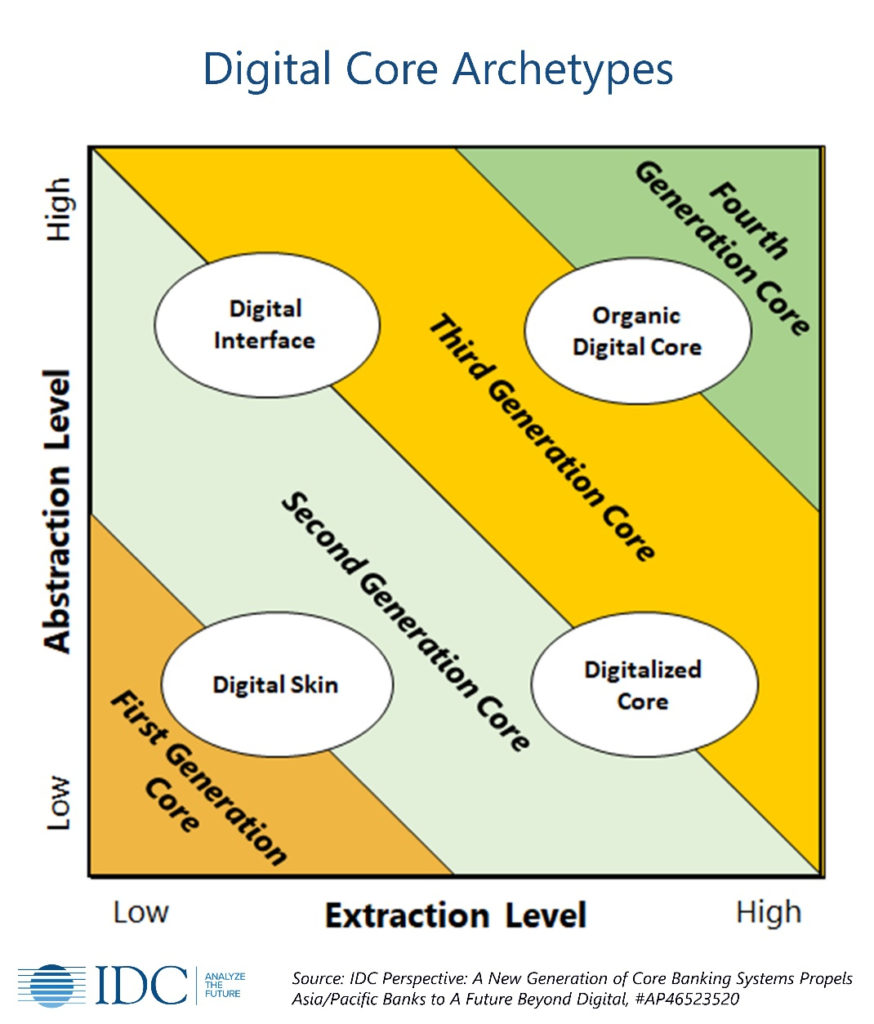 Steve Shipley, Adjunct CIO at IDC Financial Insights Asia/Pacific, says the ability to provide the most robust digital core banking archetype depends on the current core in use.
First- to third-generation vendors must rearchitect existing features to provide more digital capabilities. Fourth-generation core systems have often been designed and built more recently on modern technology and provide the fullest set of digital core banking features," he added.
This IDC Perspective presents a framework for new digital core banking and its importance in achieving DX. The attributes required for new digital core banking have been presented as four digital archetypes that can be used based on the core banking generation currently in use.