The MTR Corporation and the Hong Kong Science and Technology Parks Corporation (HKSTP) signed this week an agreement to set up a three-year collaboration framework focusing on the application of innovative technologies, data collaboration and co-investment on tech ventures.
The two companies will explore the establishment of a Living Lab within MTR's real-life operations environment to validate solutions provided by tech startups to find best-fit solutions for tackling different business challenges.
The Lab will be set up in Hong Kong in the initial stage and MTR will look for a suitable venue such as a station, MTR Mall or property. The initiative may be extended to footprints of MTR outside Hong Kong in the future.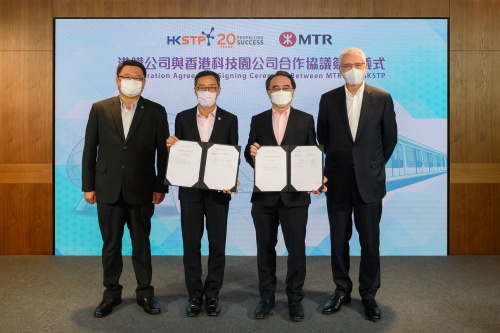 "As a home-grown enterprise, we are committed to facilitating exchanges and collaboration with different I&T companies. HKSTP has been incubating abundant startups and expertise with promising prospects within its community, and we hope to join in and play a pivotal role to promote I&T as well. I look forward exploring more smart solutions under this collaboration to bring our passengers more new and enhanced experiences," said MTR Corporation CEO Jacob Kam.
The MTR Corporation and HKSTP have been working closely for years. This latest collaboration aims to further enhance MTR's services and customer experience by adopting innovative technologies, with one of major focus being the application of big data.
"The MTR has actively adopted innovative technologies for its businesses. To strive for continuous service enhancement, we share our railway expertise with research institutes to collaborate and co-develop more smart solutions. By allocating resources to support the I&T ecosystem and nurture startups, we are also determined to help driving Hong Kong forward to becoming a 'smarter' city," said Rex Auyeung, chairman of MTR Corporation.
MTR has allocated over HK$300 million for investment in start-ups in the next few years, and more funding will be reserved for similar projects in the future. MTR will proactively collaborate with research institutes, start-ups and academies to continue the promotion of smart railway solutions and to contribute to local scientific research, with an aim to keep Hong Kong moving.
"With MTR's extensive range of business activities, the co-creation of the Living Lab provides tech ventures with real-life testing scenarios and a conducive data-sharing environment via our STP Platform, while injecting valuable industry expertise to our growing I&T ecosystem and ultimately delivering innovation with positive impact," said Albert Wong, CEO of HKSTP.
HKSTP has been supporting tech ventures – building and nurturing the city's I&T talent base, accelerating research-to-commercialisation, connecting high-growth tech startups with investors, and helping tech ventures capitalise the abundant opportunities in the GBA and overseas.
"For the past 20 years, HKSTP has been actively supporting tech ventures at different stages, with infrastructure, talent development and connecting with investors. I hope this unique collaboration can help our partner companies translate their research ideas into market-ready solutions, further enhance MTR's operational efficiency and benefit the many citizens who enjoy MTR services every day," said Sunny Chai, chairman of HKSTP.