Consumer expectations for rapidly evolving telecommunication services are escalating. As better connectivity and services for home and enterprise users become available, it is essential for service providers to offer their customers innovative services quickly and cost-efficiently to stay ahead of the competition and fulfil customer requirements.
Virtual Customer Premise Equipment (vCPE) will become a critical solution for service providers to keep pace with the demands of the industry. According to ABI Research, vCPE deployments for businesses are among the most important revenue-generating segments of Virtual Network Functions (VNFs) and will triple the VNF market by 2025, generating more than US$15 billion in revenue globally.
Drivers of opportunity
The increasing use of Software Defined Networks (SDN) and Network Function Virtualization (NFV) are among key drivers for vCPE deployments.
"Powered by SDN and NFV, network services such as routing, security, WAN optimization, etc., no longer need dedicated physical appliances. These services are being delivered through vCPE. Since services are software-defined and delivered remotely, the vCPE approach enables service providers to lower CAPEX and OPEX. Service providers can deliver additional virtual network functions (VNFs) as required and achieve agile service provision," said Khin Sandi Lynn, industry analyst at ABI Research.
Ecosystem
Service providers are already rolling out vCPE deployments in the enterprise segment by leveraging white box vCPE hardware and VNFs supplied by multiple vendors. Operators including Comcast, Vodafone, British Telecom, and Orange have recently announced vCPE services targeting enterprise customers. RAD, Lanner, Dell, Advantech are among the major vCPE hardware providers while solution vendors such as Cisco, Nokia, Ekinops, Juniper Networks, and many others provide routing, security, and SD-WAN solutions for vCPE deployments.
In the residential segment, the vCPE approach with VNFs is still limited, although some cloud-based siloed solutions for in-home Wi-Fi management and security, e.g., Plume's OpenSync, have been deployed. The cost for vCPE hardware and VNFs, as well as a fragmented residential CPE market, creates challenges for vCPE deployments in the residential market.
Barriers notwithstanding, the increasing number of broadband households (see Statista figure on broadband subscription) and growing smart home installed base creates a large opportunity for the vCPE market. SDN-enabled home gateways and VNFs can play an important role for the quick and efficient provision of smart home services in the residential segment.
Figure: Global fixed broadband subscriptions and average connection speed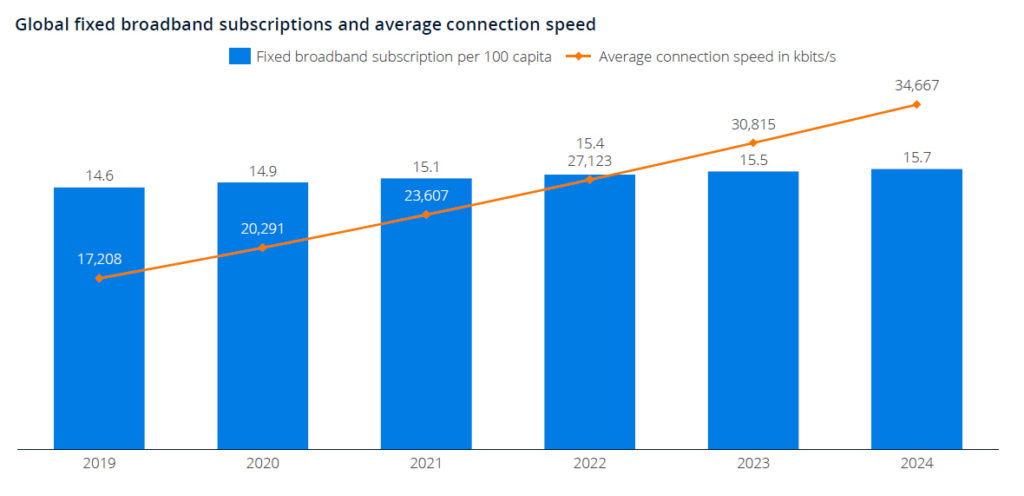 Source: Statista Digital Media Outlook 2020
vCPE applications including firewalls, WAN connectivity optimization, and control will be among the important revenue-generating segments of virtual network functions.
"As vCPE adoption accelerates, service providers need to make optimal selections of hardware and software partnerships to assure cost-efficient and seamless vCPE deployments, supporting fully automated VNF onboarding, provisioning, and maintenance in order to achieve business success," Lynn concluded.