In the last two years, 18% of organisations in the Asia Pacific have made the leap to become agility leaders where technology adoption is integrated, and guided by an integrated strategy and roadmap. In fact, between 2020 and 2022, the number of agility leaders  nearly doubled from 20% to 38%.
This is one of the key findings by the latest IDC-Workday Digital Agility Index Asia/Pacific 2022, which has been tracking the state of digital agility among enterprises in the region and assessing how they score in four dimensions: organisations and culture; people and capabilities; people and governance; and, technology.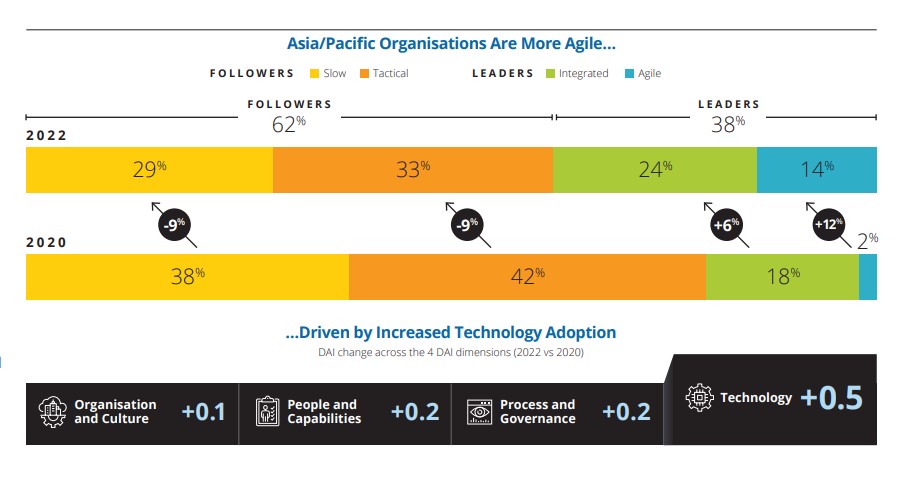 The study, which was first conducted in 2020, ranked APAC companies' digital agility across four categories:
Slow: where companies have opaque monolithic structure and legacy technologies with lack of shared data;
Tactical: where companies have standalone digital teams and initiatives, and are known for having islands of technology innovations with core system still in legacy environment;
Integrated: where companies have centratlised digital transformation (DX) strategy and technology roadmaps, and have integrated digital technologies; and,
Agile: where organisations have a digital business and operating model with digital embedded enterprise-wide, and have a modular and extensible digital platform.
The study found that across the nine APAC markets surveyed, progress in digital agility is uneven.
Organisations in Australia achieved greatest progress in digital transformation efforts and ranked first this year. Singapore, which ranked first in 2020, dropped to second position, followed by New Zealand, Korea, and Hong Kong. Taiwan, a new addition to the study, came in sixth, followed by Malaysia, Indonesia, and Thailand.
IDC and Workday define digital agility as the ability of an organisation to rapidly adapt to business disruptions by leveraging digital capabilities to not only restore business operations but also capitalise on the changed conditions. An agile organisation is one where digital is business-as-usual. It has an adaptable workforce whose work is augmented by artificial intelligence (AI) and automated processes.
While the number of agility nearly doubled over the last couple of years, majority are still lagging in digital agility with 62% in the slow or tactical stages (i.e., agility followers). For these organisations, technology adoption is often driven by functional and line-of-business requirements as necessitated by immediate needs such as for ecommerce, safety measures, and remote work during the pandemic.
From a regional perspective, only 38% of APAC organisations are in the advanced stages of digital agility. Still, progress is being made overall as this figure reflects an 18% increase when compared to 2020.
"While there is considerable progress with more organisations making the leap to become agility leaders, the fact that the majority of organisations within Asia Pacific are still lagging creates an opportunity to help organisations digitally accelerate," said Sandeep Sharma, president for Asia at Workday.
Agility as a competitive advantage
Indeed, the study noted that countries where companies have gone through a digital transformation before the pandemic showed a greater DAI (digital ability index) score improvement. Their digital investments have made digital leaders better in adapting to market changes and disruptions.
Organisations in Australia and New Zealand (ANZ), and Singapore have upped their DAI scores by between 0.5 and 0.9 since 2020 while others have advanced by a mere 0.1. DAI score improvement signifies progress in agility attributes; for example, today, 40% of ANZ organisations are operating over an integrated enterprise-wide technology architecture, compared with less than 10% in Indonesia, Malaysia, and Thailand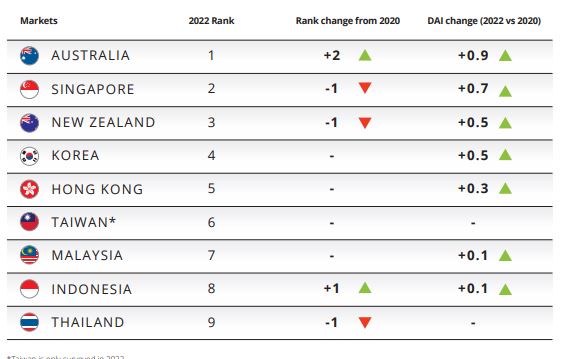 "With agility now a key source of competitive advantage in today's digital-first economy, organisations supported by data-driven processes and imbued with digital skills and work cultures are best positioned to thrive in today's changing world," said Sharma.
Lawrence Cheok, associate research director of digital transformation at IDC, observed that the "unprecedented disruptions" brought on by the COVID-19 pandemic forced many organisations to fast-track their digital transformations.
"It is not surprising to see increased technology adoption driving agility improvement. However, true digital agility is about capitalising on change in order to thrive. To do so, organisations need to emulate agility leaders and make the leap from tactical to strategic enterprise-wide transformations in their culture, people, processes, and technology implementation," he added.