Media, business and public attention on the COVID-19 (coronavirus) outbreak focus on the growing infected populace and the businesses that are closing, or failing to open, as a result of the outbreak. There is always a silver lining somewhere.
Losers and winners
As expected, the forecasts are for COVID-19 to have a far greater impact compared to the SARS outbreak of 2003. IDC says the impact to mainly confined to the first quarter, to fade in the second quarter, and a limited full-year economic impact.
Losing out the most as a result of the outbreak are hospitality & food services, tourism, wholesale & retail, transportation, and manufacturing.
The United Nations Statistics Division ranks China as the world's largest manufacturer accounting for 28% of the global manufacturing output in 2018. According to Statista, the Chinese manufacturing sector produced almost $4 trillion in 2018, contributing to nearly 30% of the country's total economic output.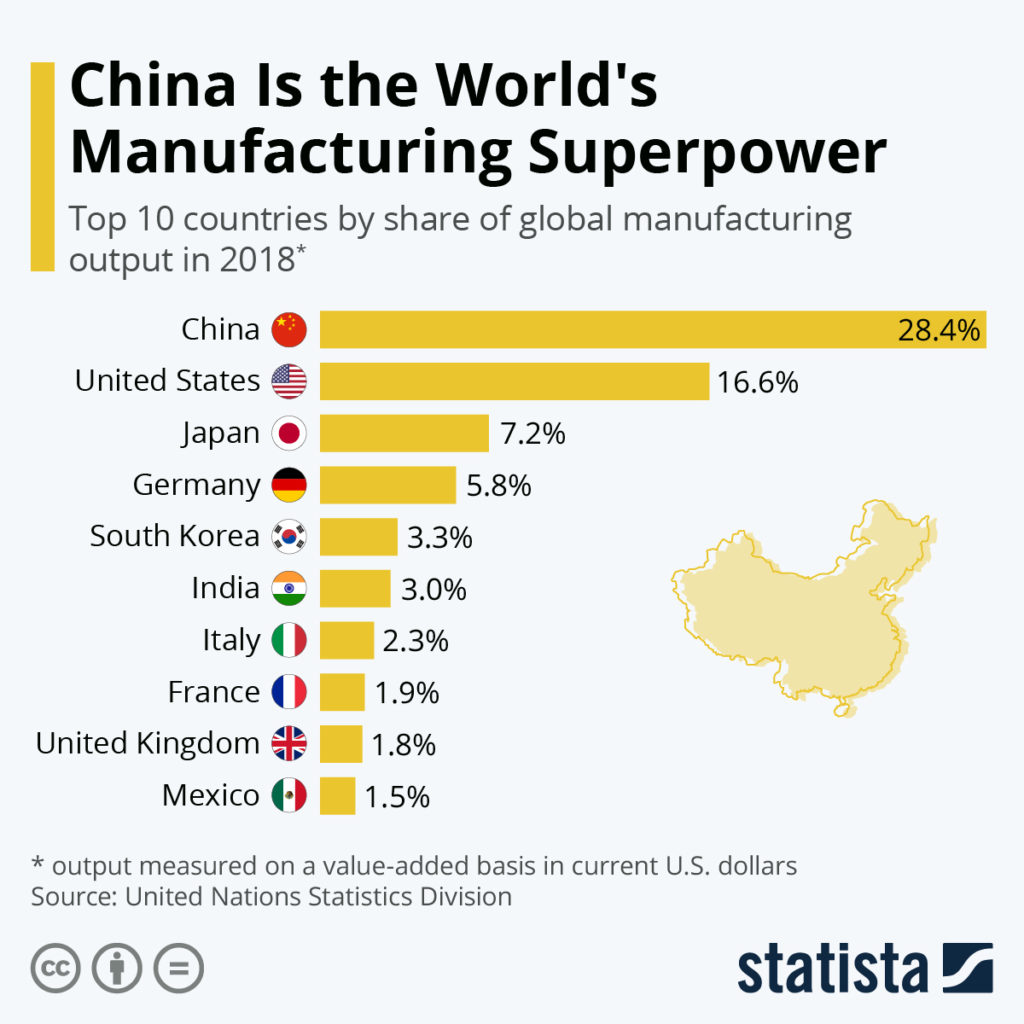 IDC says there are beneficiaries as well. It cited healthcare, government, the public sector, and internet & new media, as coming out better during and after the current outbreak.
"The digital economy enabled by ICT accounted for 37.8% of the Chinese economy in 2019. The macroeconomic disruption brought by the outbreak is expected to significantly affect China's ICT market and drag it down by approximately 10% in the first quarter of 2020," said Kitty Fok, managing director, IDC China.
Five major changes coming
What is also clear is that companies are shifting the business-as-usual paradigm. According to Forrester, Chinese organizations are harnessing digital technologies like collaboration platforms, 5G, and online tools and services to support Chinese consumers' new needs during the crisis.
In the brief, Digitally Driven Citizen-Centric Services Will Strengthen Trust During China's Coronavirus Crisis, Forrester writes that the epidemic has forced a new "lifestyle" on Chinese consumers, driving up the use of apps for grocery and food deliveries, the latest news on the virus, work communications, and live video streaming services.
eCommerce platform JD.com said its sales of fresh food reached almost 15,000 tons during the 10-day period ending February 2, an increase of 215% compared with the same period last year. Dingxiang Doctor, an online medical consultancy's WeChat mini-program, has had 1.8 billion views of its real-time epidemic map. Even banks have expanded their services to include broader lifestyle support on their apps: Ping An Bank and Everbright Bank have added real-time epidemic maps, medicine delivery, and online donation services to their apps.
IDC forecasts that the COVID-19 outbreak will bring five major changes in China's macro environment – intelligentization (who came up with these words?) and modernization of governmental operations, decentralization of city clusters + central cities, accelerating healthcare system transformation, accelerating rise of contactless businesses and services, and the acceleration of the China+1 global supply chain strategy.
Government is propping the economy
For the full year of 2020, the central government and local governments have rolled out a lot of support measures for enterprises in addressing the negative impact on the economy with a view to stabilizing it.
The measures include investment in support of the production of key epidemic containment supplies, fiscal and credit support, tax reduction and exemption and subsidies, reduction of administrative fees, administrative streamlining, and dedicated support funds.
IDC also expect more proactive fiscal measures and looser monetary measures to be rolled out in the second quarter and the second half of the year, in addition to increasing investment in infrastructure and relevant livelihood areas, which will continuously benefit sectors including healthcare, education, telecommunication and utilities.
Impact on China's ICT market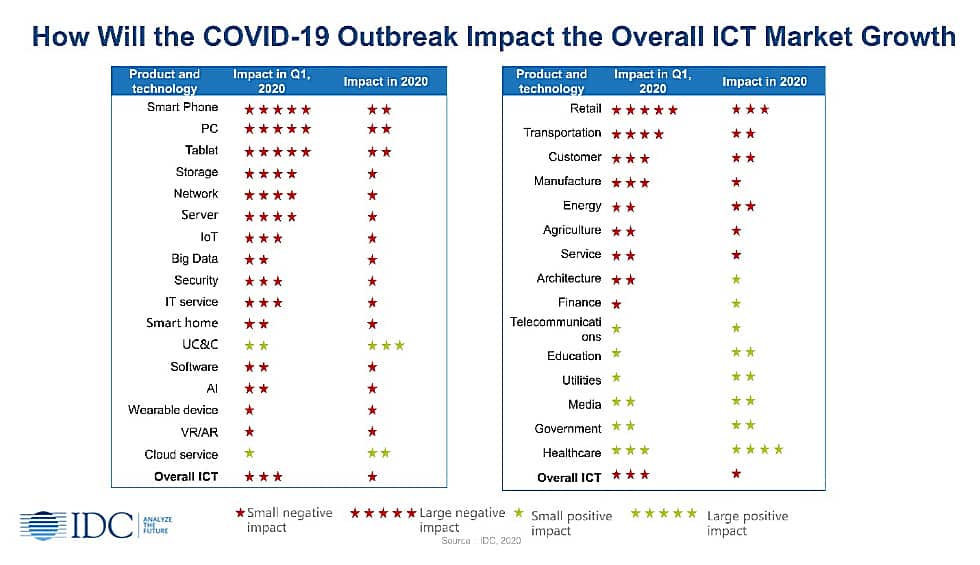 IDC says the ICT market will fall approximately 10% in the first quarter of 2020 – with at least a 30% fall for PC and smartphone sales, and greater than 15% fall for server, network and storage sales. AI and big data will grow, while emerging technologies such as IoT and security will experience minimal declines.
Potential opportunities for ICT vendors
The outbreak is expected to bring new opportunities for the ICT market:
Opportunities for digital platforms and big data regarding the intelligentization and modernization of governmental operations;
Opportunities for new smart cities and parks about the decentralization of city clusters + central cities;
Opportunities for online healthcare services in relation to the acceleration of healthcare system digital transformation;
Opportunities for online classroom and education, remote office and online activities, 5G industry applications, unmanned commerce and services, and fresh food e-commerce in relation to the accelerating rise of contactless businesses and services;
Opportunities for supply chain management, manufacturing and service robots in relation to the acceleration China+1 global supply chain strategy.
Lianfeng Wu, associate vice president and chief analyst, IDC China, advises vendors to make full use of digital technology to develop remote collaboration capabilities and habits, implement effective marketing of online products and services, and appropriately control costs and utilize government's support policies to be well prepared for post-epidemic growth by investing in promising areas of business breakthrough and innovation with prior deployments.