"If you want to go fast, go alone. If you want to go far, go together." — African Proverb
Gartner recently gathered supply chain and operations executives from four countries and multiple industries for a Leaders in Action event focused on optimising ecosystems for scale held at Nike's global headquarters.
A big THANK YOU to our gracious hosts: Amy White and Venky Alagirisamy, chief enterprise planning and supply chain officers at Nike. As they formulate strategic plans for the next decade, their conclusion is that the company will need to enable more capacity than has been installed since its inception, half a century ago.
As the largest footwear company in the world, it would be impossible to do this alone. That level of incremental capacity simply does not exist today, and it will take a broad ecosystem of partners to ensure it is created sustainably.
Ecosystems: What, How and Why
Nike is not alone in recognising the power and importance of ecosystems. A related Gartner study shows 86% of respondents reporting ecosystems as very or extremely valuable in achieving their goals. Unpacking this further, it is useful to start with some definitions of ecosystem types and objectives.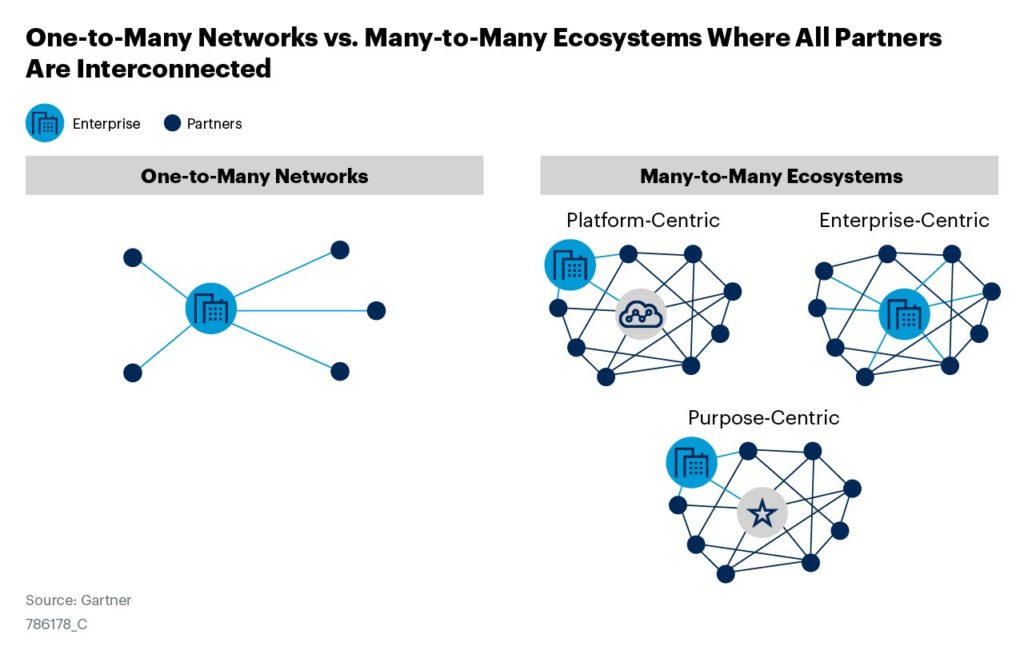 A recent supply chain executive report titled Supply Chain Executive Report: Realising the True Potential of Ecosystem Partnerships written by VP analyst Simon Bailey does this well (Subscription required. See his related Beyond Supply Chain blog.).
Bailey highlights that the traditional view of the ecosystem is one in which companies drive their extended value chains through one-to-many partnerships. More advanced players have evolved these hub-and-spoke networks to run as interconnected ecosystems where sharing and innovation are driven in a many-to-many fashion.
In some cases, the enterprise is not at the centre of the ecosystem and is simply interconnected with others over a common data and technology platform or partnered with others to address common business or societal challenges and opportunities.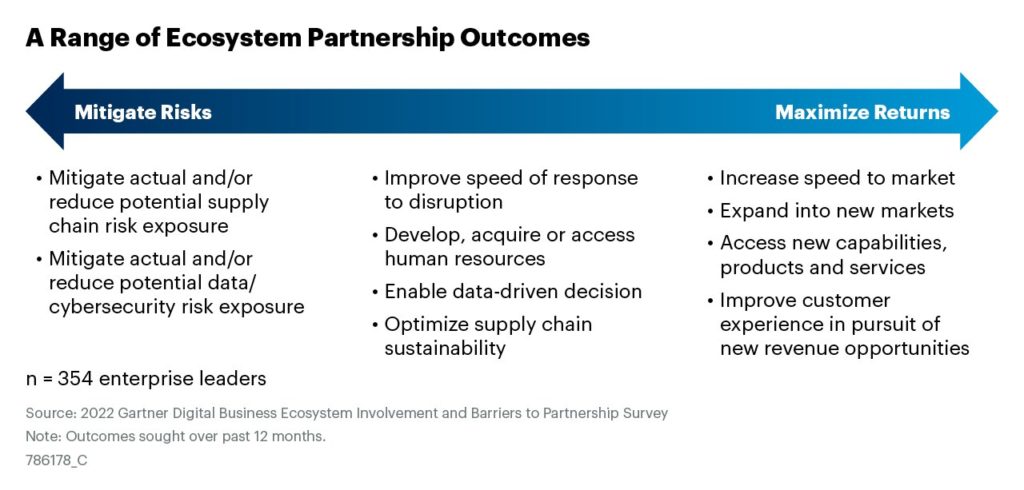 There is a wide range of outcomes being sought in these next-generation ecosystems, from mitigating key risks to maximising value for key players and stakeholders. The discussion with the COO/CSCO community at our Leaders in Action event gravitated toward customer enablement, business growth and unlocking greater sustainability.
What Did We Learn?
Here are some key takeaways from the member sessions and group discussions at the event:
On scaling with ecosystems:
Large players looking to grow and transform their industries need to take an "if not us, who?" approach to investing in new capacities. This includes internal capacities, but also cross-industry and supplier enablement.
The group compared and contrasted approaches and partnerships based on the degree of enterprise leverage their companies hold within their ecosystems. A major challenge identified was the need for strategic, long-term investments (e.g., 10 or more years out) in captive capacity at suppliers. Some noted the need for a rethink together with CFOs and business unit leaders on the risks and rewards of co-investing with key suppliers.
The government relations organisation is now a critical supply chain partner in the context of shaping regulatory frameworks and opening new markets through tax, trade and investment policies.
On driving innovation through ecosystems:
Balancing competition and coopetition: the apparel industry has created cross-industry organisations and governance mechanisms that will enable it to meet CO2 goals and establish renewable materials infrastructure at scale.
One executive framed the importance of the supply chain's role in the context of value creation and capture. The designer creates value through products for which customers are willing to pay a premium price. Spanning its many partners, the supply chain is the best-positioned enterprise team to holistically manage value capture and control value leakage in the space between the drafting board and customer receipt.
A B2B member is working across more than a dozen partners to launch EV fleet infrastructure that will allow it to meet ambitious CO2-reduction targets. In the long term, this transition will yield cost and environmental benefits and, just as importantly, a strategic competitive advantage in the marketplace.
On enabling customers through ecosystems:
A consumer-retail member has expanded product inventory visibility both internally and with downstream customers to promote healthy levels and improved profitability across the ecosystem.
One leader advised others to not "outsource your brain," encouraging them to maintain talent for critical skills. People who can compress the design-to-delivery cycle and shift toward dynamic, options-based planning are key to better capturing and serving customers. This member's planning team has 80 unique forecasting models for its products and expects this number to grow in 2024.
A life sciences member is focused on improving customer value through faster new product design and launch, as well as providing turnkey ecosystem solutions that reduce the administrative burden for customer employees – recently surveyed as more than 40% of their working time.
It was an inspiring two days together at our Leaders in Action event and we look forward to continuing the discussion with the COO/CSCO community at our upcoming autumn events.
First published on Gartner Blog Network