2022 was a colourful year for Asia-Pacific (APAC) with the continuing pandemic, the Ukraine-Russia war, and the strain on the global supply chain of which APAC is a major part. Despite these hardships, there is hope that the economies in the region are on the road to recovery in 2023.
This probably explains why IDC analysts are optimistic about the region's IT spending prospects in 2023. IDC analysts predict that despite strong headwinds on the horizon, including rising recessionary pressures, businesses will seek to derive greater benefits from their cloud deployments beyond typical gains such as IT productivity.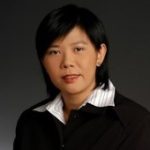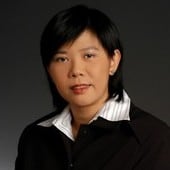 "Asia/Pacific organisations are maturing in their use of cloud, data, and new technologies to drive greater efficiencies and deliver on innovation and value creation for the business. These will increase their focus on automation, cloud management, FinOps, sustainability and cost management," says Daphne Chung, research director of cloud and software at IDC Asia/Pacific.
The backbone
Infrastructure and Operations (I&O) is the backbone on which applications and software sit; that makes them a very core and important component.
"In a nutshell, IT I&O comprises of your servers, your network storage, your security, cloud-based hosting, the end-user or the endpoint like your mobile devices, your laptops, your clients, and so on," explains Geetha Gopal, head of Infrastructure projects, delivery, and digital transformation at Panasonic Asia-Pacific.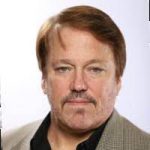 According to Gartner, the changes that I&O teams face are shifting views of how to purchase, deploy, and manage technology solutions for optimal business results.
"The rapid increase in solution complexity and deployment scenarios is challenging I&O leaders to approach skills, roles and career path management from a different perspective," added Jeffrey Hewitt, research vice president at Gartner.
Key Issues Facing I&O Leaders and Managers
"Over the last 10 years, I've seen the focus has shifted. So, for example, for the first 5 years of the last decade, it was more about 'How do we reduce cost for the businesses? How do we integrate data and AI into our services?' On the infrastructure side, 'How do we try to bring about innovation?' But in the last five years – especially during covid – the focus has shifted to security," said Gopal.
She noted that data revealed that during Covid, the dependency on digital technologies had risen multi-fold. This meant that infrastructure was exposed to greater risks. She acknowledged growing concern about breaches.
"The second challenge comes from requests from businesses for speed. Almost every company has set itself to be customer-centric, calling for faster turnaround time at 'better cost'. From the infrastructure side, the network is expected to be agile enough to be able to cater to these applications," noted Gopal.
She conceded that networks tend to be on the legacy side, and so to keep up with business expectations, infrastructure managers have to understand how they can offer network agility, make use of automation, and use analytics to offer the speed that businesses and applications require.
"The third challenge lies with applications. Teams always request or look for contained costs. And that's something that IT infrastructure managers have to take into consideration when providing these services," she added.
IT infrastructure and a hybrid working model
The Boston Consulting Group report, The Future of Cloud in Asia Pacific, cited data from Gartner indicating a steady rise in the use of public cloud infrastructure since 2020, with expectations of the trend continuing well into 2024.
For her part, Gopal acknowledged that businesses and customers are more receptive to cloud hosting. She pointed to five years ago when stringent policies and practices made it difficult to incorporate the cloud.
"Back then everything was hosted on-premises. Now, it is the other way around: we are finding ways to move to the cloud. Doing so provides scalability and other feasible features that are just not possible in on-premises solutions," she added.
Figure 1: Shift to cloud happening across all layers of the tech stack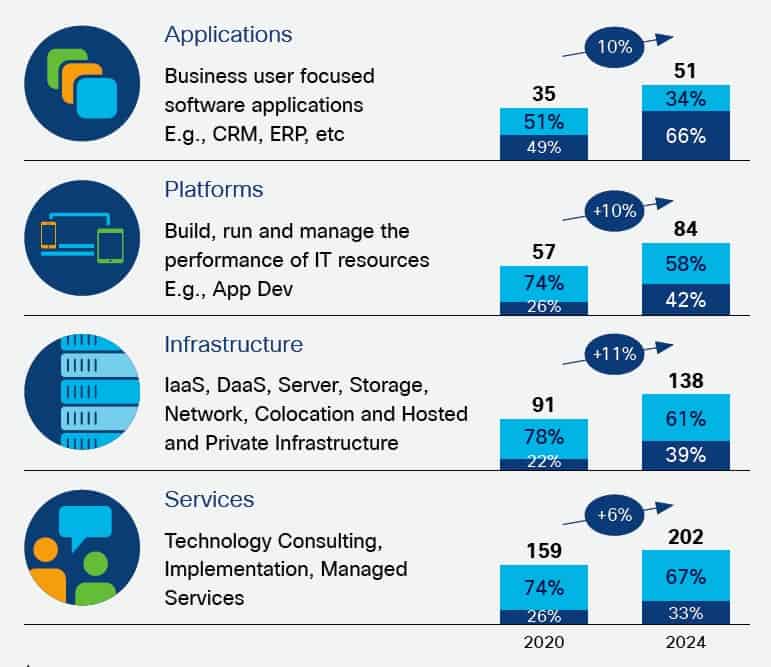 Having said that, moving everything to the cloud is not the only way. Consequently, hybrid setups with certain aspects on-premises, depending on the data classification.
"On the other hand, the whole mindset has changed. Instead of owning the assets or the infrastructure, how can one get managed services? This means moving away from an asset-driven infrastructure towards managed services infrastructure. Regardless, the focus has shifted to the SLAs," she elaborated.
Ensuring the security of the infrastructure, data and applications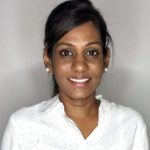 "Infrastructure itself is also responsible for security. For all the services that we offer, whether it is your hosting or your network or your end-user devices, the security of that component is still the responsibility of the IT I&O team. That's the ideal way."

Geetha Gopal
She added that the IT I&O must align with the CISO organisation on both defensive and offensive tactics. Defensive mechanisms need to be stringent to ensure they are up-to-date, and that the company has done its due diligence.
In contrast, the offensive mechanism ensures the IT I&O proactively work with CISO teams using methods such as periodic audits, internal and/or external audits, or penetration testing.
The right set of competencies and expertise
As technology reshapes the boundaries and possibilities for businesses, it is also clear that IT skills will be a requisite for any business to benefit from the innovation that digital transformation promises. The conundrum CIOs, CISOs and infrastructure leaders face is the shortage of skilled manpower.
"The need of the hour is professionals with various skill sets. Now, more than ever, we have the need to be multi-talented professionals in the infrastructure network," said Gopal.
As a short-term tactic to compensate for the lack of skilled resources, IT professionals are doubling up on what they do. Gopal pointed out that a network specialist also takes care of the security perspective and provides consulting on applications from the architecture perspective.
"I think that is a mindset change that has happened in the last decade and it'll continue to do so," opined Gopal.
Arguably, because of this doubling-up, professionals are upgrading themselves. This same reason makes it difficult to find and hire one person with a diverse skill set.
"To tackle this challenge, it is important to train professionals across different verticals. Not only will this empower the team, but it will also upgrade them in various tech, keep them interested in their job, and recognise they have a future career development," said Gopal.
Easing the tension among leaders
The convergence of growing demand, a shortage of skilled labour, and unrelenting cyber security threats can strain working relationships not only among peers but across the leadership stack.
"For leaders who want to create a smooth working relationship across these verticals, it's important that irrespective of the technologies we support, we have to be aligned with our business requirements," said Gopal
She suggested the organisational strategy needs to align with projects contributing to it. Not only do all leaders and teams must implement technology, but they must also consider who are the people that will benefit, the customers, and their needs.
She posited that from a business perspective, leaders need to consider how can teams be empowered to think this way or operate in this sort of environment.
Advise for other I&O Leaders
Looking Gopal admitted that in the past she would always think from a delivery perspective. However, over the years, she accepted that a new mindset has helped her to perform her role better.
"First and foremost, what I have learned at Panasonic, is to be aligned with the business. For every project that we do, the first question we ask is 'What business value are you bringing?' (…) 'what business value are we creating with this project or with this initiative?' The moment we start thinking in that way, I think we can fine-tune their technologies and deliveries much better," she concluded.