A McKinsey study before the COVID-19 pandemic suggested that while the idea of automating processes has been in the minds of leadership even before 2020, for the most part, those that had serious inclinations went so far as to do pilot trials of one or more business functions.
The mobility restrictions induced by the pandemic and the imperative to move on maybe just the impetus to trigger a more serious investment around automation beyond just the adoption of business process automation and robotic process automation.
Carlos Gómez Gallego, chief technology officer, Asia-Pacific and Japan for Aruba Networks says one of the biggest challenges, especially over the past couple of years, is how IT teams are juggling projects between solving issues for a workforce that is no longer in the office, while also planning those return-to-office projects for a hybrid workplace and digital transformation.
He added that a second challenge is simpler. How it is being bound by human scale. He explained that networks are getting bigger, more complex, more diverse with more applications and data, and the increasing number of cybersecurity challenges.
"There is only so many individual people can do. At some point, organisations need to augment that end-user experience by leveraging computational technology," he opined.
Definitions
Gartner defines AIOps (artificial intelligence for IT operations) as combining big data and machine learning to automate IT operations processes, including event correlation, anomaly detection and causality determination.
Gallego adds that this ranges from the more mundane types of tasks to potentially extending into much more critical and complex operations. "AIOps is always on, always working for you. It's always looking at trying to leverage that data to give you great monitoring, reporting data and insights," he continued.
Why do we need AIOps?
Gallego claims that evidence suggests the need to leverage these kinds of technologies. He cited an IDC prediction that 75% of the global 2000 IT operations are looking at leveraging AIOps for their internal workforce.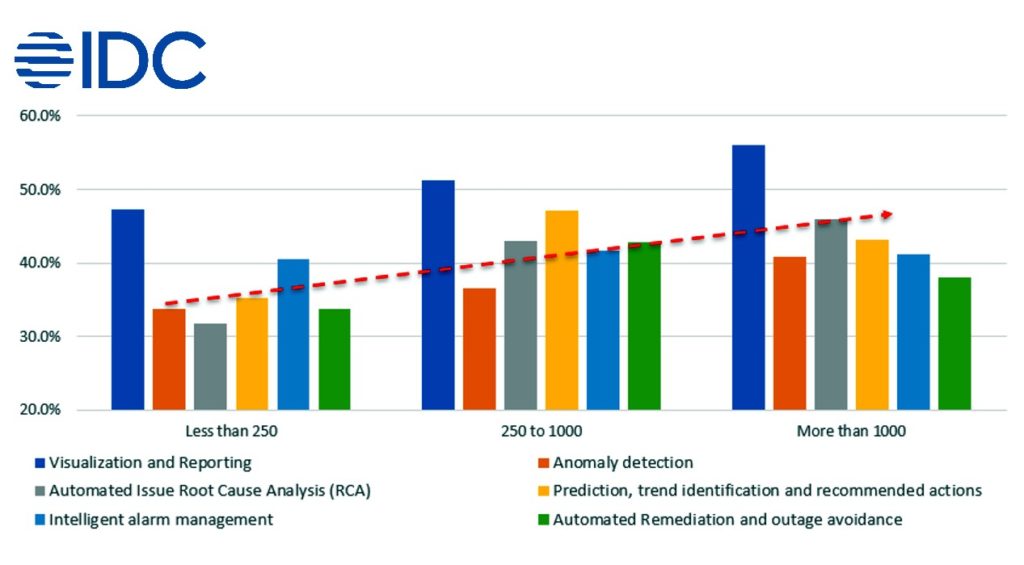 "We're putting a lot of investment into making sure that we can provide these capabilities," he added. "Customers are asking us about this, and the trend is about moving away from a break-fix model to something that allows us to try to get ahead of potential performance, security issues and the likes. Certainly, when we're speaking to customers, we hear a lot that AIOps is fundamental to their ongoing operations."
AIOps maturity
Gallego goes on to posit that organisations need their key people to work on strategic problems. He further commented that the sheer volume of data that needs to be correlated and analysed is beyond the scope of human beings' ability to do that 'leg work'.
"With AIOps, the workforce can leverage their expertise to interpret the results, make improvements and enhancements to the network or the technology stack," he added.
He expressed confidence that AIOps today is mature enough to meet the needs of businesses, particularly those moving to the cloud.
Click on the PodChat player and listen to Gallego share his views on the evolving challenges in the journey to automation and just how, maybe, AI holds at least one of the keys to wider and more fruitful adoption of the concept
What are some of the toughest operational challenges faced by APJ enterprises and their IT teams today, and how are traditional IT tools lacking in helping enterprises operate a seamless networking infrastructure?
How do you see emerging technologies solving these challenges?
What is artificial intelligence for IT operations or AIOps and can you cite a couple of new trends arising from the use of this technology?
A few issues that come to mind whenever we talk about emerging technologies: scalability, security, trust.
Let's start with scalability – is AIOps technology today mature enough to cost-effectively scale?
Security – can we guarantee that AIOps is as secure as it can get today?
Finally trust – do you see humans willing to let an AI autonomously perform a complex, even critical function without supervision?
What does a robust AIOps strategy look like?
How can enterprises improve network connectivity and build a resilient infrastructure in 2022?