Even before the pandemic, digital transformation was already in the agenda for many organisations. From what we understand, the imperative to transform got a renewed sense of urgency during the pandemic and in some cases the window to transform narrowed some say from 3-5 years to 6 months.
IDC predicts that by 2023, 75% of organizations will have comprehensive digital transformation (DX) implementation roadmaps, up from 27% in 2020, resulting in true transformation across all facets of business and society.
We've also been hearing of increased importance being placed on data around the same period as digital transformation. How are these two related and are they inseparable?
Julian Quinn, senior vice president of Alteryx Asia Pacific and Japan, says data underpins everything around digital transformation.
The data-analytics linkages in DX
"When we talk about data analytics, it's really a combination of looking firstly at the strategy in relation to a company in terms of how well the strategy is tied to the interdependencies and stakeholders. And without that, the returns would be very inconsistent," he elaborated.
He added that it's about telling the story inside that data and providing automated insights, which then could be actioned by the business.
"It's one thing to have the ability to bring in multiple data sources to not just ingest the data, but to be able to transform it and then deliver it. The other side is that are the people receiving that data able to understand it, converse with it, argue with data? Up-skilling the workforce is very important for that," he continued.
According to Quinn, the last piece of the equation is in the process automation area. He argued that when thinking about data and analytics, it starts with the first mile of the journey – the multitude of data sources, the automation in the centre, and then the output that flows back into the business, whether it's to a bot, whether it's back into the finance team or the tax and audit team, or any of that.
"It is about covering the full gamut of the analytics journey around descriptive, diagnostic, predictive and prescriptive analytics. It covers all of those, so they are inseparable," he opined.
State of competency in APAC
Citing the IDC infographic, Toward Analytics Automation in Asia Pacific, Quinn said only 19% of (surveyed) companies across the Asia-Pacific region could be regarded as analytics experts.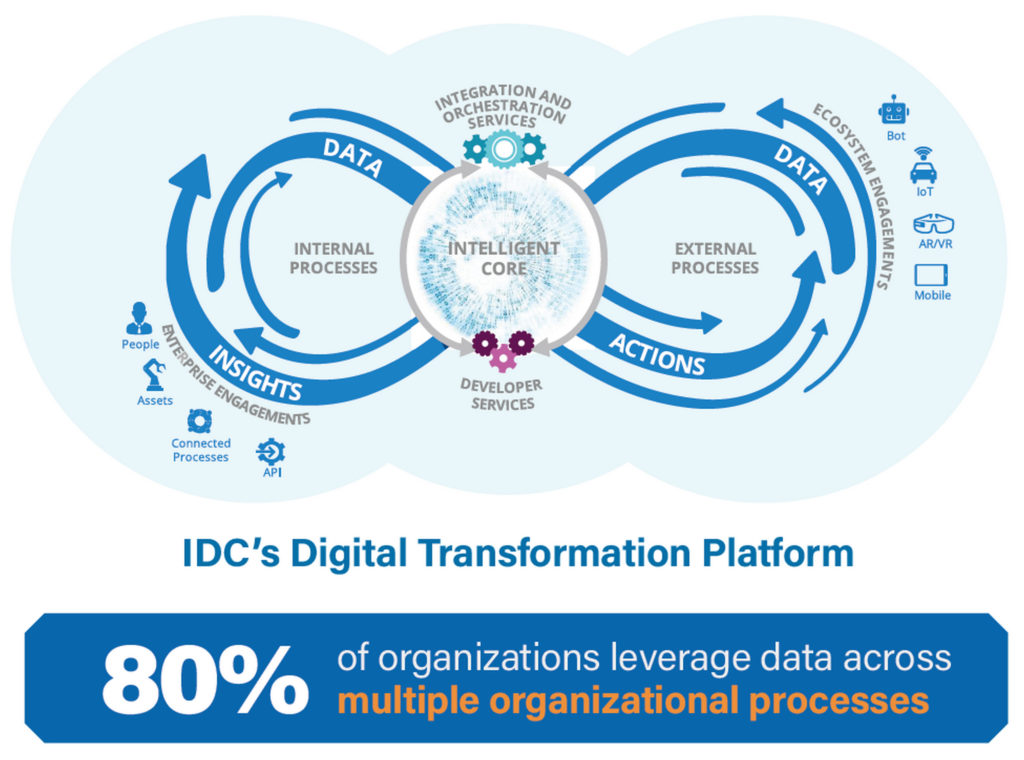 He opined that the competencies around people coming into the workforce, understanding data, is very important to succeed in digital transformation.
Future of analytics-powered business
Quinn claimed that at the CIO level, organisational priorities are around productivity with automation and business process optimisation. "It is about leveraging analytics to enhance the customer engagement, and all facets of the customer journey," he added.
He claimed that businesses enabled by analytics can achieve cost reduction of 56% above their peer group, business model innovation, at 28% above the peer group. And new product development at 17%, and market expansion at 12%.
He opined those self-service analytics facilitate the true democratisation of data.
Legacy technology
How can organizations harness the benefit of data analytics within the constraints of these existing legacy technologies to achieve the data-driven transformation at scale?
According to Quinn, 44% of data workers spend 'huge amounts of time searching for and preparing data.
"Imagine if you could free up the business so that they didn't have to do that. The reason why it's so complicated is that the legacy solutions – seven to eight different solutions or tools involved in the input phase," he posited.
In the middle are another four or five different processes again with manual handoffs between one and the other. And when you get to the output stage, you've got another potentially seven to 10 different outputs.
He argued that there are not enough data scientists in the world to meet business needs. He further posited that legacy technology's inability to scale is the real impediment.
He also contended that legacy systems are not doing the heavy lifting when it comes to data – the data workers are having to do that.
"To converse with data, it needs to be governed and scalable. Upskilling is required, as is a modern analytics platform that is automated, code-free and code friendly," he continued.
Click on the PodChat player to listen to Quinn share his opinion on the critical role of data in digital transformation.
RELATIONSHIP: We start with a simple question: How is data related to digital transformation?

Why do analysts think data and analytics competency are key to digital transformation success?
What does a future of business powered by analytics look like?

LEGACY: How can organizations harness the benefits of data analytics, within the constraints of legacy technologies, to achieve data-driven transformation at scale?

Can technologies like AI and automation support these initiatives?

SKILLS GAP: How can organizations bridge the persisting skill gap in data and analytics required to keep pace with the rapid technological changes?
RECOMMENDATION: What is your recommendation for organisations to help them improve how they harness the potential of data and analytics to achieve their transformation goals?