In 1981, Richard Faynman presented the quandry: classical computers cannot simulate the evolution of quantum systems in an efficient way. He proposed a basic model for a quantum computer that would be capable of such simulations.
"With this, he outlined the possibility of exponentially outpacing classical computers. However, it took more than 10 years until a special algorithm was created to change the view on quantum computing, the Shor algorithm."

A brief history of quantum computing, Markus C Braun
These days, mention quantum computing and we get immersed in discussions around optimisation, cryptography, and research. There is also growing speculation on how quantum technology will alter the information security landscape.
Scott Crowder, vice president for Quantum Adoption at IBM explains that quantum computing leverages quantum mechanics to do computation. It leverages the principle of superposition explicitly in quantum mechanics to do math in a very different way.
Quantum computing – a viable commercial technology
Scott Crowder: Recently, IBM published a paper in Nature, proving that quantum computers can be useful or have utility in doing a computation – something difficult for a classical computer.
What's important is that if you look at where we've come over the last 5-6 years, we've gotten from a point where quantum computers really didn't exist for anybody other than a research lab and a few places around the world, to reach a point where hundreds or thousands of people have programmed real software to run on quantum computers.  We're at the cusp now of people being able to do something useful with those quantum computers.
Probably sometime this decade, it will become viable from a commercial perspective. Eventually, the gap between classical and quantum computing will widen so much that it will not be a debate anymore.
Reshaping the tech industry
Scott Crowder: To understand how quantum is going to impact society and business, you need to understand what kinds of math quantum computers are going to be good at. These include simulating nature & materials – for example, high energy physics, chemistry, materials, and properties, and finding data patterns that have complex structures.
An interesting development that came up in the mid-90s was when Peter Shor came up with the idea that when quantum computers get big, they would be able to do things that would take billions of years in a matter of hours. This got people nervous as most of the digital economy is based on the cryptography of factoring.
Secondly, within the next decade or two, quantum computers going to get big enough that we need to change a lot of our cybersecurity algorithms to not have them be broken by quantum computers in the future.
The concerns about quantum computing are real
Scott Crowder: It is real. Quantum computers today are not big enough, hence not good enough. However, if we continue to progress them over the next decade, bad actors might take place. Many are saying that by the early 2030s, we really need to have all of our cryptography updated to quantum-safe cryptography.
The good news is that some people have come up with math that both quantum and classical computers are bad at. The other good news is that places like NIST have started having people submit new algorithms and new cryptographic standards that they're testing and releasing.
Preparing for a quantum future today
Scott Crowder: The companies that can leverage quantum computing early will have a first-mover advantage.
The first step is to understand what quantum computing is, and then to have a small team that understands the math and the algorithms underneath it – to understand how it applies to your problems of interest.
For CISOs, it is important to understand the transformation of cybersecurity. It's understanding what needs to get updated, and starting to build a cryptographic bill of materials so you know what the transformation is going to take. And when the standards get released next year, you have a plan in place to understand how you're going to make that transition.
When CIOs should include quantum computing in their technology roadmap
Scott Crowder: They (CIOs) should, at the very least, understand the technology so they can comprehend the impact that quantum is going to have on the business.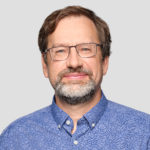 "It's about putting in place a plan for the applications that have been identified to start demonstrating in small proof of concepts and knowing how to start piloting those to understand how it impacts the workflow and business."

Scott Crowder
Click on the PodChat player for deeper insights into how CIOs and heads of technologies can plan their quantum computing strategy today.
Define for us what quantum computing is. And how is it different from high-performance computing and supercomputers?
What are some of the most recent developments in quantum computing? When will viable quantum computing be available?
How will quantum computing reshape the tech industry?
Is security under quantum computing a real threat?
What can companies do to prepare themselves for this quantum future today?
Beyond working with CISOs on the security side of the company, should CIOs start to include quantum computing in their technology roadmap? If not now, when? What conditions/events would warrant its inclusion?
Dr Michio Kaku, a theoretical physicist, says quantum computers hold immense promise because of their ability to tap into the weirdness of quantum mechanics. "If nature allows us full access to its secrets, we could boost computing power exponentially, which in turn would allow us to solve all types of complex problems," he opined.