Digital transformation is easy to say, arguably hard to implement and failures continue to occur even as we learn from our own experiences and those of others. Why is digital transformation difficult?
Some argue it is because transformation refers to a change to something that's core to the business. That it is not only about using new technologies and optimising processes, but it encompasses all aspects of a business from the backend to the front and everything in between.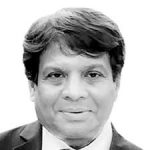 Gartner predicts that by 2026, 75% of organisations will adopt a digital transformation model predicated on the cloud as the fundamental underlying platform.
"The next phase of IaaS growth will be driven by customer experience, digital and business outcomes and the virtual-first world," said Sid Nag, vice president analyst, Gartner.
The findings of the Nutanix 5th Annual Enterprise Cloud Index (ECI) reveal a notable increase in the use of mixed infrastructure, which spans private IT infrastructure (both on-premises and hosted), public clouds, and edge locations. The increased diversity is driving IT pros to seek a unified place to manage and secure their applications and data.

During a dialogue with FutureCIO, Aaron White, general manager and vice president of Sales for APJ at Nutanix noted that perceptions around cloud computing are evolving as businesses and users immerse themselves in the environment.
He observed that in recent years, the belief was that one core cloud was the solution to everything. He cautioned that applications differ in complexity, and migrating them to the cloud may involve refactoring, resulting in higher costs.
"While cloud-native applications are simpler to manage, managing data that already exists in your datacentre is challenging," he opined.
Aaron White

"The focus now is on finding the most secure and cost-effective cloud for each application's requirements. Instead of having one destination/core cloud, the focus is on using the right cloud, including public or private, for the right job."

Aaron White
Kubernetes sprawl
Container technology is about as old as virtual machines although containerisation took off with the debut of Docker in March 2013 and accelerated even further with Kubernetes in 2017. In the latest Nutanix Enterprise Cloud Index (ECI) study, 97% of respondents acknowledged using open source Kubernetes orchestration.
However, "they cite designing and configuring the underlying infrastructure, storage, and database services as among the top challenges they continue to face with their Kubernetes deployments."
White conceded that container sprawl is now present, replicating the virtual machine (VM) sprawl. "Today's technologies have simplicity at the heart of them and governance is needed to manage this simplicity," he added.
He pointed to solutions that offer detailed reporting on cluster utilisation and use AI and machine learning to project future utilisation and control current needs. "With a cloud application lifecycle management, we can manage containers or virtual machines from creation to disposal," he added.
The march to simplification
There is little doubt that IT has grown in complexity over the years. Some would blame it on business demands for better, faster and more customised solutions. The democratisation of technology may have contributed to the complexity as well.
Climate change and sustainability may offer the impetus for organisations to rethink how CIOs and CTOs architect and execute their technology strategy.
"I think ESG and sustainability are things has been talked about for a long time. What's interesting is that they have moved up much higher up the C-level agenda," he continued. "Given that the other part of our message for a long time has been around simplicity, security, ease of use, and hybrid cloud, it's only natural that we feel that this is great news for us, that we're able to address them."
Key messages of the 2023 ECI report
According to White, the 2023 annual Enterprise Cloud Index report offers three guideposts for organisations:
Firstly, IT teams need to leverage more than one IT infrastructure. And this is going to become more and more pervasive moving forward - it really emphasises the market requirements for hybrid multi-cloud.
Secondly, managing applications uniformly across different cloud environments is the market's top priority, according to 94% of respondents.
The third one is around data-driving infrastructure requirements. The amount of data that has been generated today is almost double what it was six months ago.
"Organisations will continue to face challenges like security, governance, and management across multiple environments. It's increasingly more obvious that the most important things to any organisation are their people — I would hope — and the second is their data," he concluded.
Click on the PodChat player and listen to White share his views on how to tame the complexity of digitalisation.
How would you compare this year's report to previous years? What stands out?
Is a single pane of glass to manage it all even possible given the proprietary nature of how the cloud is implemented?
Data security and management considerations drive IT infrastructure choices. Given the many choices and options for how organisations can secure and manage the infrastructure and the data, how do you see CIOs and the IT team taming this complexity?
Cloud cost control ranks as a top IT management challenge. How do you contain cloud costs without adding more costs?
The Enterprise Cloud Index report noted that 97% of respondents have begun using open-source Kubernetes orchestration. Are we seeing the end of virtual machines? Is this rise in containerisation going to lead to container sprawl? How do you bring back control while supporting business goals?
Given all the different priorities from simplification, to security, and now sustainability, how do you tie this all together without losing sight of business goals?
What is the overarching message 2023 Annual Enterprise Cloud Index?