The OutSystems report, The Growing Threat of Technical Debt, revealed that 69% of IT leaders identify technical debt as a major threat to their companies' ability to innovate.
As businesses strive to rebuild following the challenges of the past year, technical debt has emerged as a major roadblock to innovation and recovery, especially for enterprises focused on growth. Technical debt is a technical design or development choice made for short-term benefit with long-term consequences.
Across industries, this results from the development of solutions implemented quickly to maximize speed, rather than optimizing for the future.
"The combination of old code along with the new generation of mobile apps, stack applications, and SaaS sprawl are robbing organizations of resources, time, and the ability to innovate," said Paulo Rosado, CEO and Founder of OutSystems.
He opined that to address the growing technical debt will require a new approach to move past it and innovate at a pace and scale for true competitive advantage.
Key findings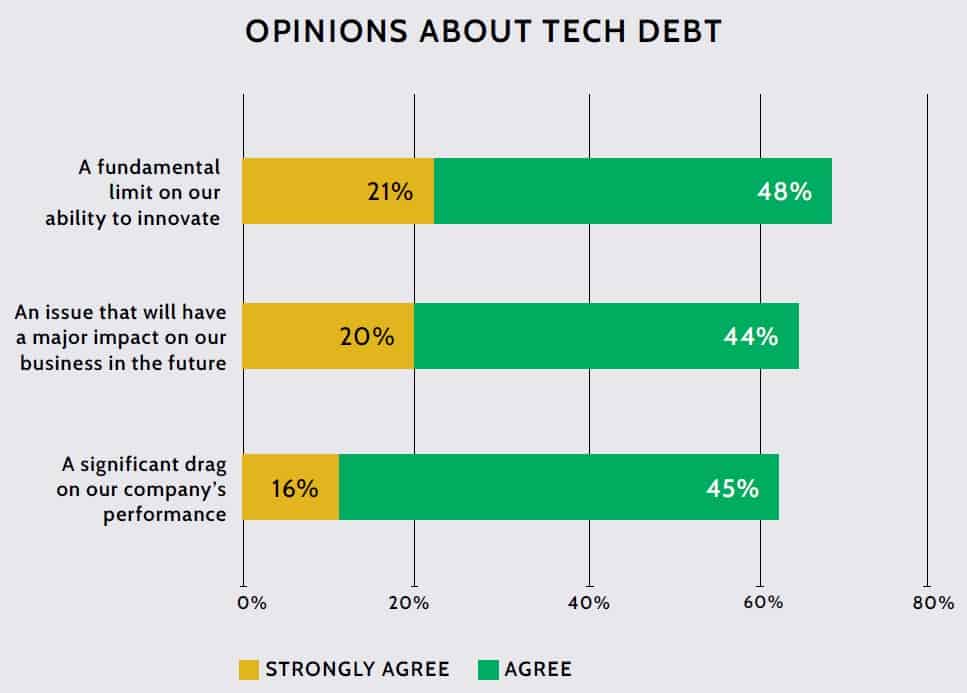 A majority (69%) of IT leaders say technical debt poses a fundamental limit on their ability to innovate, along with 61% saying it drags on their company's performance and 64% agreeing it will continue to have a major impact in the future.
There is a massive opportunity cost for businesses of all sizes across all industries as they dedicate time, money, and other resources into technical debt instead of innovation. On average, businesses spend approximately one-third of their IT budget addressing technical debt - this jumps to 41% for enterprises.
There is not a sole cause of technical debt, though IT leaders cite too many development languages/frameworks (52%), turnover within the development team (49%), and accepting known defects to meet release deadlines (43%).
Businesses continue to delay addressing technical debt, further exacerbating the issue. Only 20% say tech debt is something they are currently managing well, though 36% report they will be able to manage tech debt in the future.
Technical debt compounds as companies grow. Enterprises spend 41% of their IT budget on technical debt, while small businesses spend 27%.
Analyst comments
Gartner suggests adopting a scalable approach to measure infrastructure technical debt by using a simple initial assessment to identify which areas need further attention and a lightly more elaborate method to assess high-priority infrastructure elements.
The analyst also suggests making technical debt metrics easy to understanding by presenting fitness measurements graphically, based on cost versus benefits and technical debt impact.
Gartner predicts that through 2023, I&O leaders who actively manage and reduce technical debt will achieve at least 50% faster service delivery times to the business.