"If you want loyalty - get a dog. If you want loyalty and attention - get a smart dog."

Grant Fairley
New research on the evolving state of financial services from Qualtrics reveals that 22% of consumers across the Asia-Pacific plan to switch banking providers over the next 12 months, with 48% of respondents also interested in using digital-only banks to meet their needs.
Key takeaways
Satisfaction does not always lead to retention
Despite two-thirds of respondents saying they were satisfied with their banking provider (68%) and health/life insurer (65%), 22% are planning to change who they bank with, and 27% are looking to change their insurance provider.
Similar results are seen in insurance with 29% of people aged under 40 are likely to switch, compared to 27% of 41–50-year-olds and 20% of those aged 50+.
No loyalty to traditional providers
Alongside the 48% of respondents very interested in using digital banks, 55% of respondents were open to buying travel/home insurance while 51% are happy to buy health/life insurance (51%) from non-traditional providers.
When it comes to investing, 73% say they adopted digital channels to meet their needs, such as online brokers, fintech apps, and digital wealth management solutions. Younger consumers are consistently the most willing to engage non-traditional providers.
Share of wallet is won with great experiences
Alongside competitive rates and brand perception, the quality of the mobile app and website, products, and customer service are the top factors driving trust in the industry.
Consumers said they were opting for digital-only offerings for better customer experience, lower fees and charges, flexible products, higher returns, and more personalisation.
Acting on feedback is key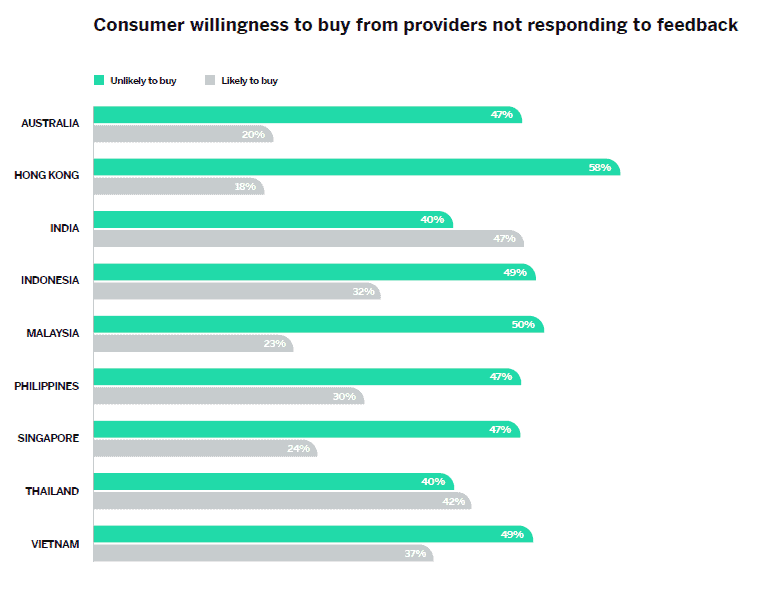 69% of surveyed consumers said it was important their provider captures ongoing feedback from them regarding products and services and acted on it. 48% said it was unlikely they would purchase from a provider in the future if the organisation failed to respond to their feedback.
Customer service becomes hybrid
Despite opting for digital channels when it comes to banking, human interaction remains important when choosing new products and insurance policies.
When purchasing an insurance policy, 32% of respondents said they would like a mix of digital and face-to-face interaction, 26% want more digital interaction with a financial advisor, while 23% want more face-to-face interaction. In contrast, only 19% wanted a more self-serve journey.
Conclusion
The survey revealed that the share of wallet is dependent on the quality of the physical and digital experiences provided.
"Consumers are actively hunting for products, services, and engagements tailored for their rapidly changing needs and preferences. That means organisations that are able to quickly listen, understand, and act on customer feedback will have a significant advantage," said Harish Agarwal, head of customer experience solutions & strategy for Qualtrics in Southeast Asia, India, and Greater China.