Customer expectations are at an all-time high, and loyalty is fleeting. Survey data revealed in the Zendesk Customer Experience Trends Report 2020 noted that about half of customers will switch to a competitor after just one bad experience, and 80% will leave after multiple bad experiences.
The importance of service
In the report, Delivering Relevant Content and Knowledge to Customers Is Key to Great Customer Service Gartner predicts that, "By 2023, organizations at advanced stages of digital transformation will find that poor customer experience is their biggest barrier to further success."
This is acknowledged in the Zendesk report which also noted that price is only second in importance behind service when it comes to developing brand loyalty.
Elisabeth Zornes, chief customer officer at Zendesk, says service can make or break a company. "To build a loyal customer base and truly differentiate themselves, companies of all sizes across industries and geographies must provide an easy and frictionless customer experience, earning and re-earning a customer's business with every interaction," she added.
To up their customer service game, the Zendesk report recommends the following:
Maintain one seamless conversation
Build infrastructure that promotes seamless customer conversation across different communication channels, perhaps combining support, self-service, and live channels like chat or phone. In addition, sales and support teams should partner to connect early customer interactions with later ones. Use shared tools to engage with customers from the initial sale throughout their experience with a product or service.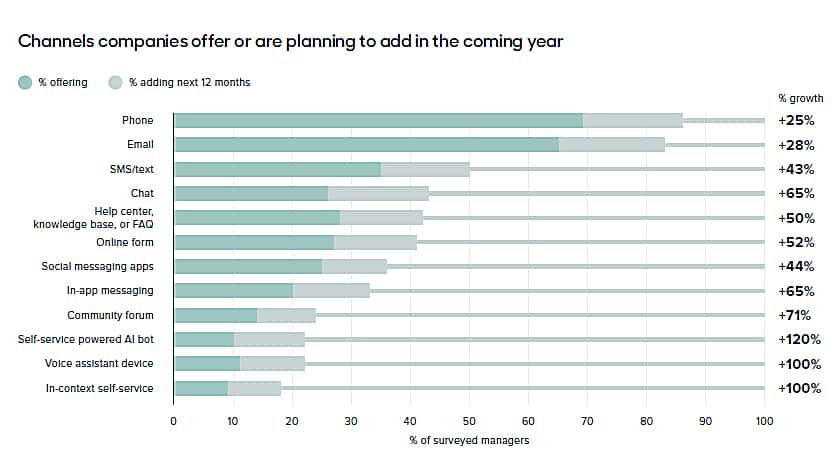 Source: Zendesk Customer Experience Trends Report 2020
Harness customer data
Data privacy is not as important as good service. Customers prefer companies to keep track of their data if it leads to better experiences, with more than 75% of customers wanting the personalization that comes with better insights. Being able to manage and interpret data is crucial for understanding customers and proactively identifying opportunities to better serve them.
Embrace AI in customer service
Gartner predicts that, "By 2025, customer service organizations that embed AI in their multichannel customer engagement platform will elevate operational efficiency by 25%."
AI is the future of customer service. Zendesk's report shows that only 37% of customer experience teams are using AI, according to customer experience managers. High-performing customer experience teams are twice as likely to embrace AI, incorporating the technology across more channels and interactions with customers.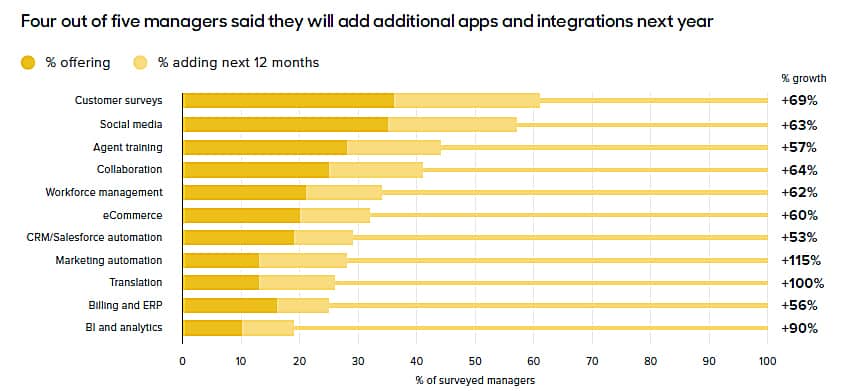 Source: Zendesk Customer Experience Trends Report 2020
Give CX a seat in the C-suite
Forrester says the number of customer experience executives has grown more than 1,000% over the last five years. The Zendesk report added that newer, forward-thinking companies that were started in the past five years are 64% more likely to have a Chief Customer Officer (CCO) that owns the customer experience.
According to Zendesk customer service leaders expect both their customer requests and teams to grow, by 42% and 36% respectively. As companies continue to invest and make the customer experience more of a central focus, it's critical that they make customer service teams a central part of their company culture and strategy. With the right tools and systems, companies have the resources to set up agents for success and leverage data to make smarter decisions.