Gartner says despite increased investments in a range of digital self-service capabilities, customer service and support (CSS) leaders continue to struggle with three failure points⁠ with self-service containment. These failure points include external search, site navigation and self-service capabilities⁠ (see Figure 1).
"These three failure points are all part of a typical customer search journey in the digital age," said Philip Jenkins, senior research director in the Gartner Customer Service & Support practice. "They create avenues for customers to bypass self-service, contribute to high-effort customer experiences and impact self-service containment by guiding customers to channels ill-suited to their issue."
Figure 1: The Three Failure Points Responsible for Self-Service Failure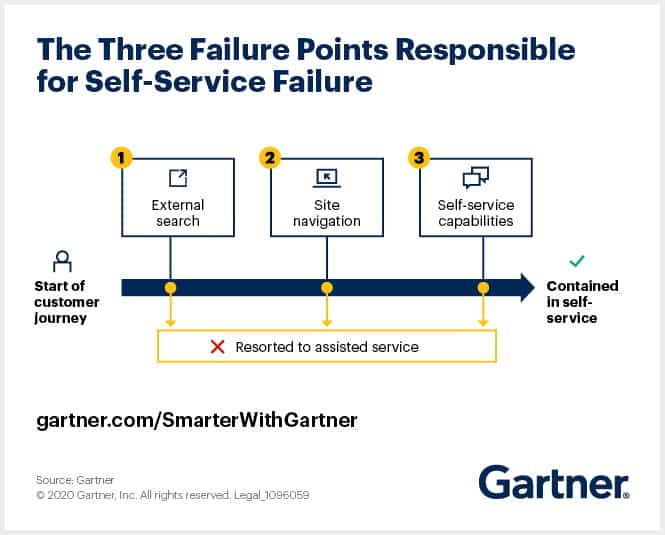 The 2020 Gartner Loyalty Through Customer Service and Support Survey of over 6,000 customers revealed that only 13% of customers found resolution wholly within self-service, the rest interacted with a service rep at some point in their service journey.
Gartner analysts said this suggests self-service still has much room for improvement. Eighty-two percent of CSS leaders reported they prioritize optimizing self-service capabilities as the best way to reduce assisted-service contact volume. However, this solution only addresses one problem driving self-service failure.
"While CSS leaders should address these three failure points as a whole, every organization should conduct a thorough assessment of its performance in each area to determine which needs the most focus," said Connor Seidenschwarz, research principal in the Gartner Customer Service & Support practice.
Recommendations for CSS leaders:
Re-evaluate self-service strategy by assessing the potential impact of external search and site navigation, not just self-service capabilities, on self-service containment.
Reduce assisted-service contact volume by using search engine optimization to remove or limit access to assisted-service channels in external searches and create a clear pathway to organization-owned customer service pages.
Simplify the digital customer journey on the organization's website by directing customers to relevant self-service capabilities and limiting, or reorganizing, access to assisted-service channels.
Reallocate digital self-service investments toward improvements that facilitate external search and site navigation, guide customers to relevant self-service content and, where appropriate, route them to assisted service.