Although the coronavirus outbreak has had only a minimal impact on the video surveillance market so far, the industry still faces a risk from falling demand and a potential production bottleneck spurred by labour and component shortages in China.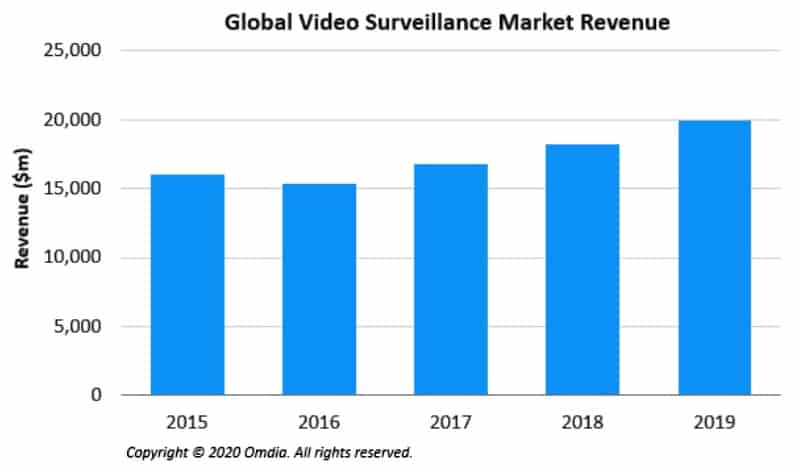 This was the early prognosis of Tommy Zhu, senior analyst covering video surveillance for omdia.
Like the automotive industry, a sizeable chunk of the world's video surveillance technology is manufactured in China. To date, 90% of video surveillance cameras are made in China. In 2019, China accounted for 45% of global revenue in 2019.
As a result, any coronavirus-related disruption to production, supply chains or workforces in the country could have a significant impact for a global video surveillance market totalling US$19.9 billion in 2019.
"Given China's status as the world's largest producer and consumer of video-surveillance cameras, the country wields a proportionately massive influence on the global market for these products," said Zhu.
"Video surveillance equipment suppliers in China currently are contending with reduced production because of a lack of manpower and delays following the Lunar New Year. Meanwhile, domestic demand for general-purpose video surveillance products is likely to cease or suffer delays as the Chinese government focuses on coronavirus control."
A global supply chain problem
China is also a major supplier of components to other manufacturing countries elsewhere. China is home to several major suppliers of lenses, CMOS sensors and system-on-chip devices used in cameras and other video surveillance devices.
The weeks of lockdown that started just before Chinese New Year and extending to the present, manufacturers located in other countries, including those in Southeast Asia, are suffering from the effects of a supply-chain hold-up.
While some companies have gradually returned to work, staff shortages are possible because the epidemic may reduce the output of various components, even as the full impact of the virus is yet to be determined.
What lies ahead
Omdia opined that the best-case scenario, with the epidemic successfully contained by the end of March and the disruptions reduced by April, the impact of the virus on the video surveillance market will be minor.
However, if the epidemic continues to spread and infections rise in number in the second quarter, then the effects of the coronavirus on the video surveillance industry and on many other markets will be severe.