"Ninety per cent of all millionaires become so through owning real estate. More money has been made in real estate than in all industrial investments combined. The wise young man or wage earner of today invests his money in real estate." – Andrew Carnegie, billionaire industrialist.
Still, COVID-19 has had a dim impact across all industry sectors including the real estate (property) sector.
Business leaders in Asia-Pacific are focusing on navigating the immediate impact of COVID-19 on supply chains, revenue and profitability while reconfiguring capital allocation and M&A plans for the post-crisis world.
According to the 22nd edition of the EY Global Capital Confidence Barometer (CCB) Asia-Pacific, 94% of Asia-Pacific respondents to the CCB survey expect COVID-19 to have a severe impact on the global economy due to forced shutdowns, stringent safe distancing measures causing travel, work and supply chain disruptions, and declining consumption.
The Lendlease Group is a multinational construction, property and infrastructure company headquartered in Barangaroo, Sydney, Australia.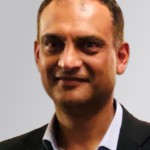 FutureCIO spoke to Pankaj Srivastava, CTO & SVP Digital Technology, Engineering & Delivery with Lendlease for his take on how Asia's property sector is adopting Industry 4.0 advances to catch up with digital transformations affecting other industries around the world.
Australia-native Lendlease Group is a multinational construction, property and infrastructure company with operations in Singapore, Malaysia, Japan and Greater China.
If you look at the property and construction sector in Asia, how is innovation being realised in this industry sector?
Pankaj Srivastava: Against the backdrop of the pandemic environment, the rate of change and transformation in today's world is accelerating, and the time is now for the property and infrastructure sector to review how it can leverage technology for the business' future.
Central to this paradigm shift is the move towards Industry 4.0, which focuses on delivering and enabling transformation through digitalisation.
What this means for the future of real estate development is that demand for cost-effective, innovative and sustainable buildings will inspire data-led business models, which will, in turn, help fuel the continued growth of the industry.
Lendlease is committed to driving the innovation agenda and we are paving the way by becoming a digital leader in the industry and creating digital capabilities that support key strategic objectives.
For example, as part of Lendlease' digital focus, we set up a dedicated digital function within the company called Lendlease Digital to focus on the adoption of technologies such as digital twins.
Lendlease Digital harnesses the firm's deep property experience to unlock efficiencies and performance benefits across the entire design, construction and property supply chain and operating model.
What is digital transformation to executives in the property industry?
Pankaj Srivastava: Digital transformation in the property industry is underpinned by the move to Industry 4.0, which is characterized by the shift from labour-intensive to skill-based ways of working.
The recent launch of Lendlease Podium, for example, a first-of-its-kind digital property lifecycle platform, is aimed at simplifying the interdependencies in the built world.
Lendlease Podium's streamlined, digitised and interconnected supply chain will unlock efficiencies across the entire design, construction and property supply chain while achieving the best outcomes for safety and sustainability.
By efficiencies, some examples include the conception of a more holistic and integrated building design; better accuracy and automated use of construction components; and forging strategic partnerships across the supply chain that could have been a missed opportunity without automation.
To realize this vision of digitally native designs with software-based supply chain networks to virtually fulfil the demands of the property industry, Lendlease Digital is investing heavily in core digital technologies as the backbone of digital solutions for the industry.
These technologies include: cloud computing with high-performance-compute for in-depth simulation of building design; IoT enabled supply chain track and trace of supplies for construction; AI-assisted control towers for managing quality in the property design and demand for the construction phase.
How do you see Proptech driving innovation in the property industry?
Pankaj Srivastava: Proptech plays a key role in unlocking efficiencies across the entire design, construction and property supply chain while achieving the best outcomes for safety and sustainability.
Through our technology and sophisticated building management tools such as Lendlease Podium, developers can automate the design, cost scheduling and supply chain sustainability.
With digital twins, we can identify 5-15% of the problems in the design phase before we get to construction. That means we are solving problems earlier in the cycle while saving money and building better and safer buildings
Additionally, our developments are equipped with sensors that are always generating data. Having a data platform like Lendlease Podium brings all the data together to give us insights on how we can automate a building to improve efficiency and create a better experience
To what extent are developments around IoT (for example) influencing the delivery of innovative processes and services in the property sector?
Pankaj Srivastava: The property and construction industries have complex and interdependent processes and supply chains compounded by long timeframes between vision and conception through to execution and operation
Smart technologies including AI can further enhance the design process by using big data and complex algorithms to create test designs through a virtual platform, where developers can compare viability and cost, the local environment and more. This means decisions and commitments can be made at an early stage, which speeds up the whole process
For example, built on Google Cloud, Lendlease Podium capitalises on data available across the property and construction sector to create a streamlined and digitised supply chain.
This means smarter investments, bigger savings and improved risk management.
Think in the context of the development of a commercial building. Previously, the vast bulk of decisions made throughout the property's lifecycle have been made in isolation of each other.
As a result of digitisation, everything from the orientation of the sun in winter, through to the train timetable for the station closest to the site, how employees prefer to occupy space, down to the type of bolt used in floor joists will be able to be inputted into a "digital twin" and holistic decisions made before the first sod is turned on the project.
The on-going pandemic has put into focus the importance of cost optimisation and resilience. As CTO, how are you contributing to these two new goals?
Pankaj Srivastava: To remain competitive, we need to be more productive in what we build, because we can't have a world where costs keep rising.
Through our technology and sophisticated building management tools (Lendlease Podium), developers can automate the design, cost scheduling and supply chain. We are also using them in operations to create autonomous buildings where problems can be addressed before they occur. This reduces overall costs and improves productivity and efficiency.
At Paya Lebar Quarter, for example, we used Lendlease Podium Advisory Services to support with the visioning, design, delivery and integration of smart, open-architected and future-ready digital technologies and services. These services are supported and underpinned by a cost-effective, secure and scalable digital infrastructure.
With a robust Lendlease Podium Delivery Services Blueprint in place, PLQ is future-proofing the place created for tomorrow's technology requirements. This includes:
Operational efficiency with real-time fault notification and monitoring delivered via one operational dashboard
Insights that ultimately result in improved commercial negotiation and informed decision making for outsourced services
Covid-19 has been a stress test and only further confirms the resilience of our business model. Our business model is designed to withstand real estate cycles while being agile to adapt to market changes.
Emerging opportunity because of COVID-19
The CBRE report, COVI-19 Implications for Flexible Space: What's Next?, remains positive for the co-working space sector citing flexible space as emerging as one of the solutions for large occupiers seeking to accommodate social distancing protocols in Asia Pacific's already dense office environments.
Co-working space has also become a business continuity planning option for some occupiers following the pandemic.
"With these structural shifts and the rapidly changing external environment, the adoption of a hub-and-spoke model and greater use of flexible space in "core + flex" solutions is gaining traction among occupiers as they build more flexibility into their corporate real estate portfolios," noted the CBRE report.