Statista estimates that in 2018, the traffic from data centres to users reached 1.61 zettabytes. More astounding is the global IP traffic from cloud data centres in the same period – 10.6 zettabytes. IDC predicts the world's data will grow to 175 zettabytes in 2025.
Put into perspective, if you were to download 175 zettabytes at today's current internet connection speeds, it will take you 1.8 billion years to complete your download. Even if everyone in the world pitched in on the download, it will still take 81 days.
With the cost of storage coming down in the last decade, combined with the near manic need to understand the customer in as much detail as possible – without violating privacy issues – storing everything and anything about the customer has become a no brainer.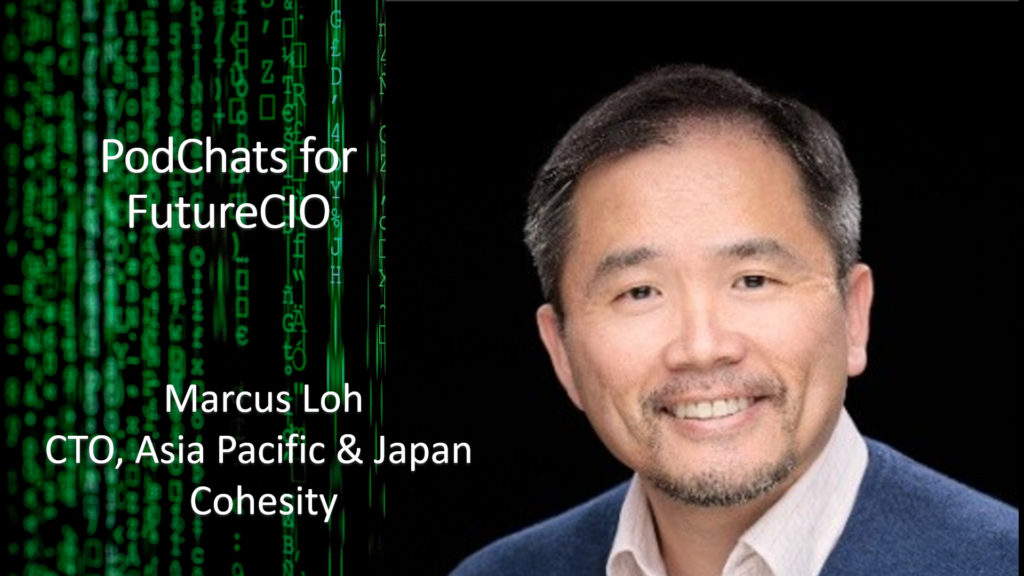 FutureCIO spoke to Marcus Loh, chief technology officer for Asia-Pacific and Japan at Cohesity for his take on how data management is evolving and how best organisations can tap into the opportunity.
Below are excerpts from his dialogue with FutureCIO. For more details, please click on the podcast player and listen to Loh share his views and experience on all things data management and data lifecycle management.
How would you define data management?
Marcus Loh: According to the 80/20 rule for data storage, most of the data that exists within the enterprise are unstructured or has low latency. Eighty per cent of data is comprised of backup, storage and archives while only 20% refers to mission-critical applications. Under this circumstance, we found that organisations have difficulty managing all their data from end to end.
Picking up from the definition of data management, how have things changed as far as how enterprise treat or manage data?
Marcus Loh: I do see that organisations are now taking a more active approach when it comes to how they treat and manage their data. Data has become so valuable and businesses need to identify a better way to manage and gain visibility to the most crucial information that exists within their organisation.
How can organisations manage the wealth of data that they have without visibility into it?
Organisations are now looking at ways to shift from their existing legacy architecture. Along with these changes, companies are beginning to acknowledge the lack of complete visibility in terms of the amount of data that they have within the organisation.
To solve data management issues for the long run, enterprise organisations are realising that they need to manage their data in a consolidated way rather than then taking the legacy approach.
What is the underlying reason for why data has remained in silos all these years? Where is the gap coming from? Is the technology, management or processes to be blamed?
Marcus Loh: If we refer back to the People, Process and Technology framework, it could be all of the above. IT technologies have been around for a while and prior to Cohesity's solutions, the approach to data was slightly different in the last few years.
Typically, IT teams establish a backup and recovery solution for their mission-critical applications. Organisations are also looking at archiving and testing data applications within their development environment. From a data analytics standpoint, data is also being used to derive insights. With these various IT processes, projects are usually treated on a piecemeal basis.
Ultimately, this fragmentary approach is what propagates data silos. Moreover, within each silo, IT teams often use a variety of legacy solutions to stitch their data together.
The challenge to most organisations now is the amount of data that they have accumulated over the years. Left unchecked, the unstructured and siloed data accumulating within organisations will cause problems down the road like a ticking time bomb waiting to explode.
If you had to pick one top long-term damage that can incur due to ineffective data management. What would that be?
Marcus Loh: Accumulating massive amounts of redundant, obsolete and dark data is one of the top long-term damage of ineffective data management to an organisation. Many organisations are keeping obsolete, redundant, and dark data and they are likely not aware of this.
Without visibility, IT teams are backing up data that they do not need, increasing the complexity of managing data and incurring unnecessary storage costs.
Security also becomes an issue. With more data to manage, the area of exposure also increases. In the event of a cyberattack, organisations cannot secure sensitive data without knowing where these data reside.
We are exposing ourselves to having so much data stored and managed in various locations. How much does it cost the Chief Financial Officer to have this data spread all over the place?
Marcus Loh: The CFO should be well-informed and equipped on data management. While it is not easy for a CFO to understand data management and the end to end lifecycle of data management, there are few questions that I will ask if I were to be a CFO.
Is it necessary to keep all this data? How long should we keep and maintain this data? Does the organisation know exactly what data they are keeping? The CFO has to have concrete answers to these questions to justify the costs associated with keeping data.
As the Chief Technology Officer, how would you approach selling the idea of data management as a platform or to non-technology people or perhaps even to technology people?
Marcus Loh: I would convince them why they need to go with a hyper-convergence, software-defined and web-scale approach towards data management. The ideal solution needs to span from the edge to robo, to the cloud, including hybrid as well.
This route will help future-proof their infrastructure and ensure that they have visibility over their data. With an effective data lifecycle management, organisations can kill all birds with just one stone, with just one platform.
That makes sense from an IT perspective. What about if you are selling the idea to a business executive or the C suites?
Marcus Loh: Cost is a talking point that will appeal to business and C level executives. I will approach this group by positioning infrastructure investments not just a cost centre but a way to accelerate the speed to market.
For organisations that are looking to amplify their data management strategy using the platform approach, who should lead this and who should be part of this team?
Marcus Loh: Implementing a data platform will involve several different functions such as the backup admin, infrastructure, storage, and DevOps team so the preferred approach would be to start from the top.
What do we need to do to be ready to take on this platform approach to managing data?
Marcus Loh: Every organisation needs to start their data management process right away. Organisations can make the most out of their data by knowing what kind of data is being stored and the reasons for maintaining them.
For areas of improvement, I would start with visibility. With visibility, organisations can begin the discussions around data consolidation and explore ways to transform it.
Data processing activities such as data classification, collection and retention can be better managed with improved data management process. To establish business continuity, organisations need to ensure that data is always accessible.
Lastly, keeping irrelevant data has become a vicious cycle and organisations must learn how to keep their data lean by removing unnecessary data.
To be future-ready, organisations need to see data management through the lens of visibility, data consolidation and processing, compliance, business continuity and data reduction.