Both IDC and Gartner released positive reports about PC shipments for the fourth quarter of 2020. In the Asia-Pacific region, IDC noted that purchases were skewed towards laptops (71%) and monitors (60%) as opposed to desktops (49%). Tablets (39%) were mainly bought for entertainment.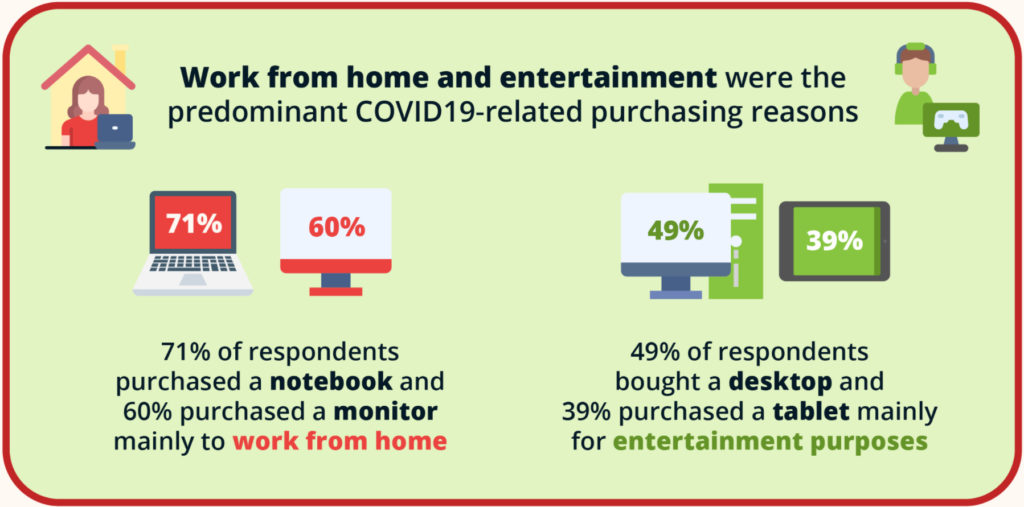 Year in review
IDC reported that the fourth quarter of 2020 (4Q20) saw global shipments up 26.1% year-over-year to 91.6 million units. On an annual basis, this is a 13.1% growth compared to 2019.
Gartner counted 79.4 units shipped in 4Q20, 10.7% better than the same quarter in 2019. It said in total 279 million units were shipped in 2020, up 4.8% from 2019 and the highest growth in 10 years.
IDC also acknowledged the 10-year gap from the last peak in PC shipments.
Gartner's Mikako Kitagawa said the growth in 2020 was strongest in markets where governments maintained "stay-at-home orders as the COVID-19 pandemic persists."
She added that "prior to 2020, consumers had been shifting to a phone-first focus, yet the pandemic reversed this trend. PCs have resurfaced as an essential device as consumers, including younger children, are relying on them to for work, school, socializing and be entertained from their homes."
What to expect in 2021
IDC analyst Ryan Reith, program vice president with IDC's Worldwide Mobile Device Trackers, is optimistic that moving into 2021, demand will continue and that a surge has a way to go.
"In retrospect, the pandemic not only fuelled PC market demand but also created opportunities that resulted in a market expansion," he continued.
Kitagawa agrees but cautions that it remains to be seen if it will sustain in the post-pandemic era as it will depend on the permanency of the changes driving demand.
"For instance, online education may continue even after schools open, consumers may still buy groceries online, and some businesses may continue full- or part-time remote work. If these scenarios persist, then PCs will return to consumers' daily lives as an essential device," she added.
So what?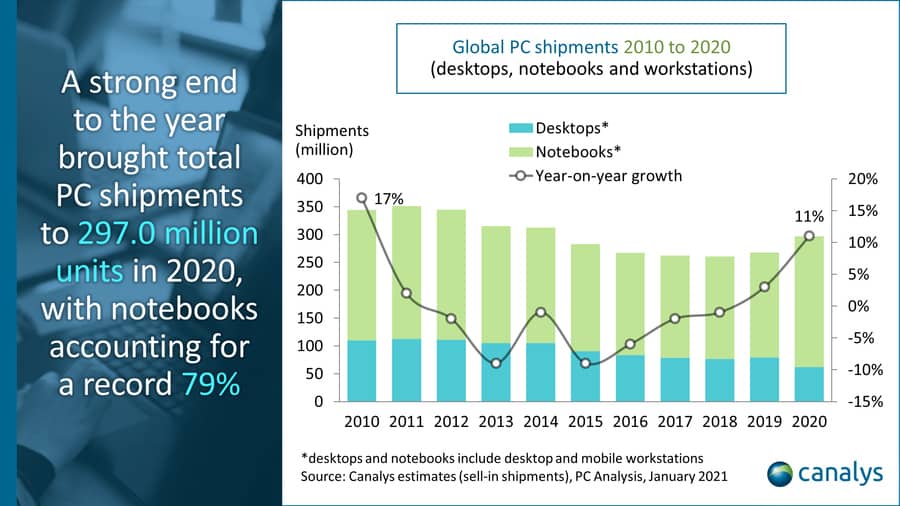 Canalys' research director Rushabh Doshi warns not to downplay the role of the PC industry. It deserves all the success that has come its way, he added.
"We would be in a very different position had it not been for the commitment of the PC industry, including the vendors, the supply chain and the distribution channel, to make sure that every bit of market demand was met. The digital transformation the world has undertaken over the past year is unparalleled, and PCs were at the heart of this change. As the world readies itself to get vaccinated and overcome the COVID-19 virus, it is important to remember that PCs have played a vital role at every stage of this fight, from understanding the virus and synthesizing the vaccine, to social monitoring and vaccine roll-out. It is going to be extremely difficult to write off the PC as some of us did a few years ago. PCs are here to stay," he concluded.
At the end of the day, the COVID-19 pandemic spelt the revival of the PC market as it forced companies and consumers to upgrade their computers, smartphones and tablets notwithstanding, in order to continue working remotely. Would the end of the pandemic, when it eventually comes, put a hold to this renewed interest in PCs? Probably not!