In an unpredictable environment where government healthcare measures are straining or even breaking supply chains, business agility gets a new level of importance. Agility may well mean survival for some and opportunity for others.
This call for agility is not new. Solution providers like IBM have always drummed up the benefits of digital transformation. But many companies — especially small and medium enterprises (SMEs) — have long focused only on the immediate needs and not in future-proofing their operations.
COVID-19 drastically changes this. SMEs see the critical need for agility. Two dialogues held during the recent IBM eOpenHouse event discussed why it's important to become more agile particularly during these stressful periods and how to go about it..
Technology as an enabler of change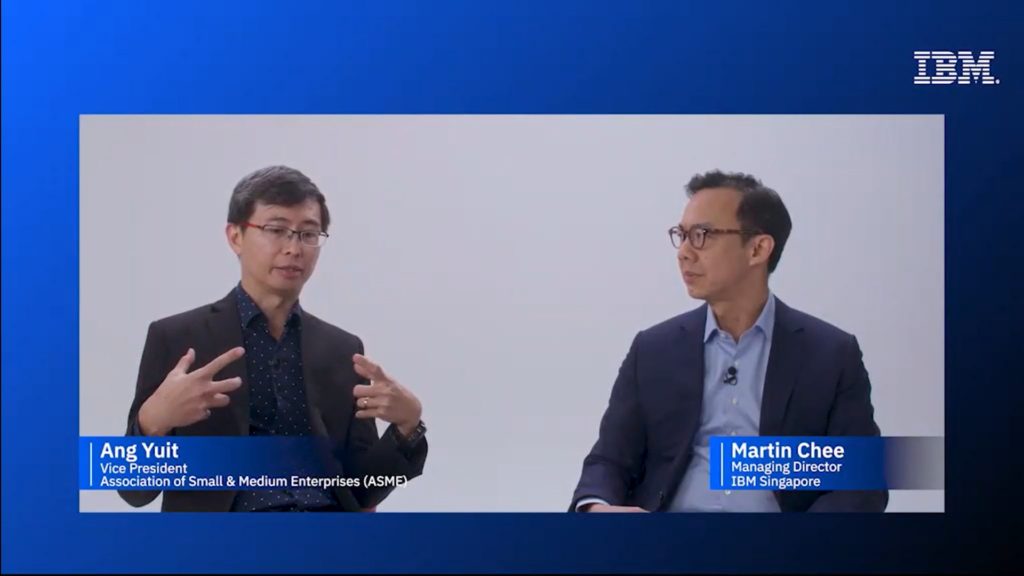 During the dialogue titled "Taking on the Future with New Business Capabilities," Ang Yuit, vice president for the Association of Small & Medium Enterprises (ASME) noted that business model transformation is nothing new. It has been occurring since 2011 "when the government identified that productivity is the key driver of change."
Yet, a lot of SMEs were busy "firefighting" and attending to immediate challenges. "But COVID-19 has been the biggest motivator of change with no further inhibitors. SMEs now see that they have to transform or be left behind," said Yuit.
He added that companies are not just improving their business capabilities. They are altering their business models by making them more "low-touch" with less physical contact.
"Why? Because they do not know when the virus will go away," said Yuit.
Martin Chee, managing director at IBM Singapore observed that COVID-19 has accelerated cloud adoption as companies transform. Interest in artificial intelligence (AI) is also soaring as companies look to "transform the way they engage employees, customers and communities while taking the load from frontline staff who can now focus on higher-value tasks."
Digitalization has also sped up collaboration between different stakeholders. ASME's Yuit highlighted the SafeEntry app as an obvious example.
"SMEs want speed. They do not have time to experiment. So, the coming together of the government and the local institutions has helped the SMEs," chimed in IBM's Chee on the benefits of the app.
Chee also noted having the right infrastructure and applications is not enough; the workforce needs to be ready for digital transformation.
For this, IBM is partnering with SGUnited Skills (SGUS) to launch i.am-vitalize. The certifiable training program will guide employees in acquiring valuable digital skills and expand their expertise. Offering a combination of foundational and elective elements, it looks to ready current employees for a digital-driven future.
Rethinking about skills development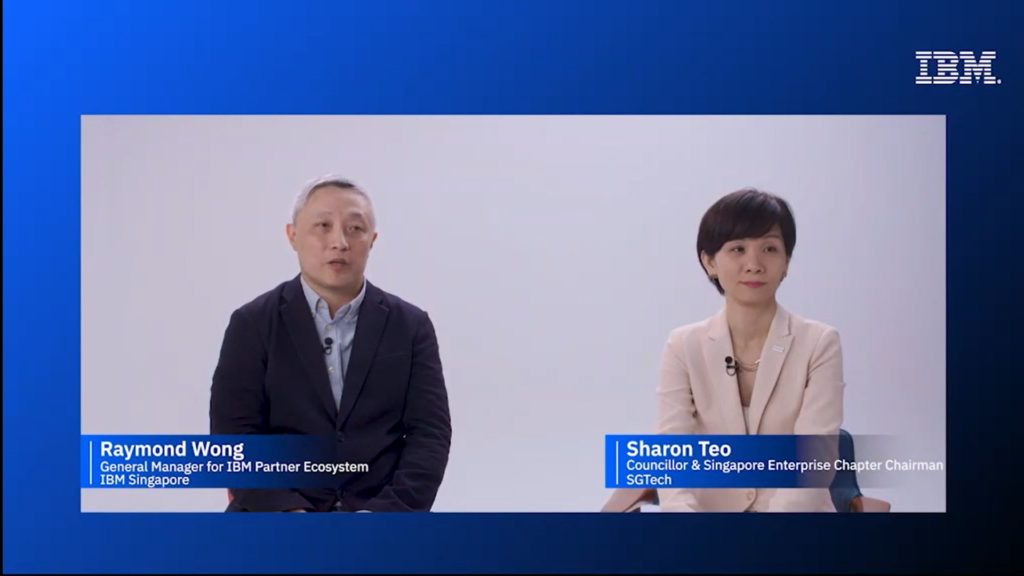 In a separate dialogue titled "Leveraging Technology to Transform — Start Small, Scale Fast," Sharon Teo, councillor and chairman for Singapore Enterprise Chapter at SGTech highlighted that many companies see the need to keep up with new skills and information. SGTech has rolled out several webinars and learning initiatives.
One example, highlighted by Raymond Wong, general manager for IBM Partner Ecosystem in Singapore, was the Isolation Economy Portal. To this, Teo added that the portal is a key resource for business owners to learn about the impact of new measures.
"For example, we asked one of the law firm members to explain what the COVID-19 Temporary Measure Act meant to business contracts. So, businesses can understand what actions they can take," she said.
SGTech is also helping SME employees to shore up their knowledge in managing liquidity, employees, e-commerce, collaboration, and cybersecurity while offering solution bundles for each.
"With digitization coming at a much faster pace than before, SGTech's initiative certainly provides a launchpad to help companies to transform," added Wong.
The new knowledge is now having surprising effects. For example, Teo noted how a local florist and gift company collaborated with other SGTech members to "upgrade their hardware to enable their 10-person call centre to work from home,"
This helped the company capture valuable traffic during Mother's Day despite the circuit breaker.
Generational lines are also blurring. Teo pointed to company's oldest employee at 73 years old, embracing the new technology as an example.
Competing in a digital future
It is difficult to predict what the new normal will be. As the dialogues noted, what is certain is that the market will be different. Companies need to reset their business models to become more adaptable, with technology and talent management will play key roles.
In some ways, COVID-19 is helping companies and employees to expand their capabilities. While technology has allowed companies to add resilience to their business model, ASME's Yuit discussed how the government's efforts to increase subsidiaries, introduce credits and make learning more accessible spurred employees to learn during the lockdown.
Such measures will be critical as the global economy realigns post-pandemic. "Companies and employees will then need to prepare to compete with the world," concluded Chee.
As part of the IBM eOpenHouse event, several IBM Business Partners were invited to introduce some of the leading technologies available to enterprises of all sizes and focus to enable them to overcome the challenges presented by COVID-19.
Topics covered within the Scaling Business Operations. Conditions for Growth track include:
Analytics Modelling for Sustainable Operations – offers guidance on what companies need to take into consideration for building analytics modelling capability to transform their business operations with an open, extensible data and cloud-native AI platform.
Driving Business Value for E-invoicing – introduces the digitization of payment and what e-invoicing offers for businesses of all sizes, including the ability to transact with businesses that comply and use the PEPPOL network to exchange business documents.
Cognitive Care AI Chatbot – acknowledges the increased propensity to use digital conversations between customers and vendors. Dr Arun Kumar, lead consultant, Data & AI, IBM Services, ASEAN, describes approaches organisations may take using IBM's cognitive care AI chatbot to achieve desired customer experience outcomes.
Exit the Vicious Cycle of Upgrades by Transforming Workloads to Cloud-Native – takes a look at the growing impetus to move to a cloud strategy to achieve economic and operational benefits. But beyond just migrating to a cloud set up, the presenter also describes the benefits of having access to cognitive and automation technologies from IBM.
The other breakout session, Optimise Working in the New Normal, also covered four specific areas of business and operational importance:
Work-From-Home security. Simplified – acknowledges that challenge of moving the workforce to a new, yet familiar environment, the home, and specifically focuses on the issue of security of an expanded perimeter. The presenter suggests a Unified Endpoint Management strategy that incorporates AI to simplify the management and security of all devices connected to the enterprise regardless of where they are physically located.
Enhance Operational Resilience with Cost-Effective and Scalable Cloud Storage – grapples with the concerns of securing files that travel between client devices and the central server. The presenter suggests increasing operational resilience by improving security, instilling a cyber-resilient mindset, and the tools such as storage in the cloud to heighten remote collaboration.
Managing Big Data Movement Challenges – COVID-19 has seen an increase in the volume of data traffic moving across the Internet. It suggests the use of Aspera FASP as an alternative high-performance files transfer, an approach used by brands like Netflix, Best Buy and Jabil to ensure performance that meet customer expectations.
Return to Workplace – Som Tiwari, IoT practice leader, IBM Services ASEAN, says that as businesses begin to plan to return to the workplace, they can look to IBM's strategy as an example for ensuring employees return to work faster and safer.
The IBM eOpenHouse offers a unique opportunity to understand what trends are impacting businesses in Singapore, and around ASEAN, and how organisations of varying sizes and focus, can tap into mature as well as emerging technologies to come out of the COVID-19 crisis better prepared for the uncertainties of the future.