Commissioned by Xero, the Forrester report, The Next Chapter For Small Business: How To Thrive In A Changed World, revealed that 92% of Singapore SMEs tapped government COVID-19 support, more than their global counterparts.
Key findings
Most Singapore businesses (92%) leveraged government support. This was the highest rate across all of the markets surveyed - Australia, New Zealand, Singapore, North America, and the United Kingdom.
79% of businesses leveraged various forms of community support, higher than the global average of 62%.
24% of Singaporean SMEs were more likely to tap into digital customer insights compared to their global counterparts at 18%.
Consumers surveyed in Singapore were the most price sensitive globally, with 51% stating the top reason why they purchased from SMEs was because of lower prices - significantly higher than all other regions and the global average of 24%.
41% of surveyed consumers in Singapore would buy more goods and/or services from SMEs online to support their community during COVID-19.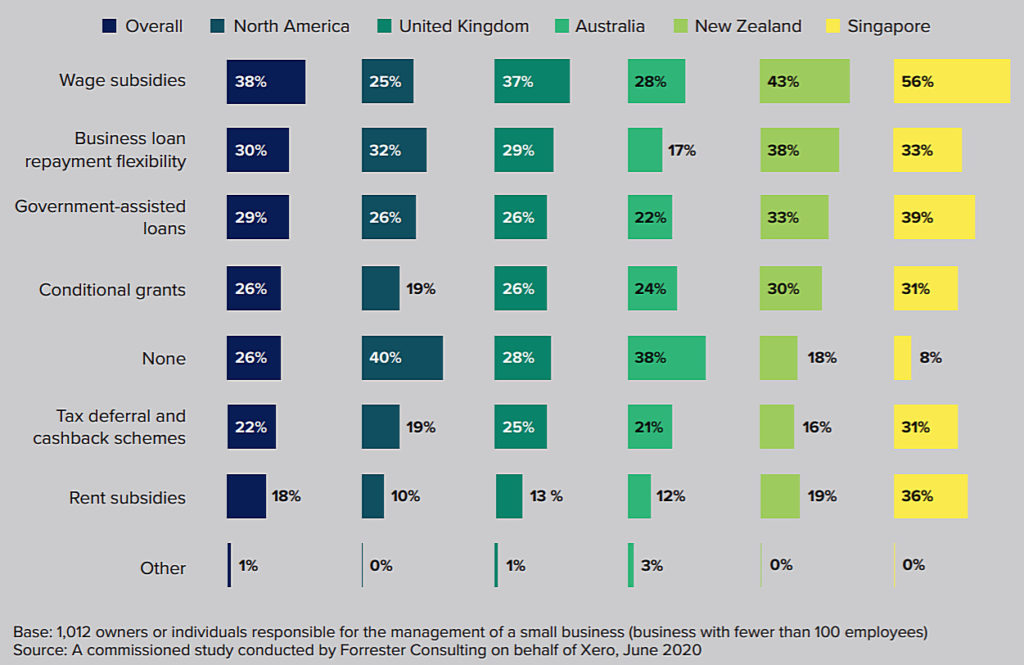 The Singapore perspective
Kevin Fitzgerald, managing director for Asia at Xero, says SMEs, faced with a challenging economy and business environment, in Singapore are at an important juncture.
He added that digitalisation of business operations coupled with generous government support has been a key enabler for many businesses through the peak of the pandemic and circuit breaker initiative.
"With government initiatives set to taper off over the coming months, there is growing urgency for SMEs to leverage data-based insights, adopt cloud-based digital tools and consult with trusted business advisors on strategy to build resilience and position themselves for growth," he commented.
Cloud adoption surged during the pandemic as 62% of Singapore SMEs shifted their business operations online to more efficiently manage operations and better engage with customers. With an increase of 30% from 2019, Singapore saw the highest increase amongst all markets surveyed.
The study additionally found that SMEs in Singapore were more likely to leverage customer data analytics (37%) and less likely to rely on instinct to inform their strategy (20%).
Leveraging data-driven insights enabled Singapore SMEs to quickly pivot their business strategy and tackle the top two challenges during COVID-19, namely retaining existing customers (38%) and attracting and retaining new customers (36%).
Businesses in Singapore were also more likely to base important decisions on customer feedback (43 %) and advice from business associations and communities (43%), with a smaller group relying on advice from trusted business advisors like accountants and bookkeepers (28%).
Those who did consult business advisors, claim that it has been the most effective out of all initiatives measured, representing a missed opportunity for small businesses who did not.
Playbook for SMEs
Recommendations include harnessing the power of the ecosystems in which small businesses operate, digitising company and financial information and increasing efficiency with cloud-based tools and consistently leveraging the assets and capabilities within their networks to sustain and grow their businesses.