Traditionally, manufacturing operations have been last in line for IT spending. In my past life, the design engineers would get the new, most powerful computer hardware, passing on their old hardware to the manufacturing engineers, who'd pass on their old hardware to the manufacturing production team. That was always the way of the world.
We have seen this continue as vendors producing manufacturing operations software lagged their business counterparts in the adoption of SOA, enterprise service bus, microservices architectures, cloud-native solutions and next, "The Composable Enterprise."
Per the Gartner definition:
"A composable enterprise is an organisation that delivers business outcomes and adapts to the pace of business change. It does this through the assembly and combination of packaged business capabilities (PBCs). PBCs are application building blocks that have been purchased or developed."
This is a decidedly IT-centric definition. Pushback from some clients is that the Composable Enterprise is just a Gartner IT invention with little value in manufacturing operations. So, what is composability/composable business, and does it apply to manufacturing operations?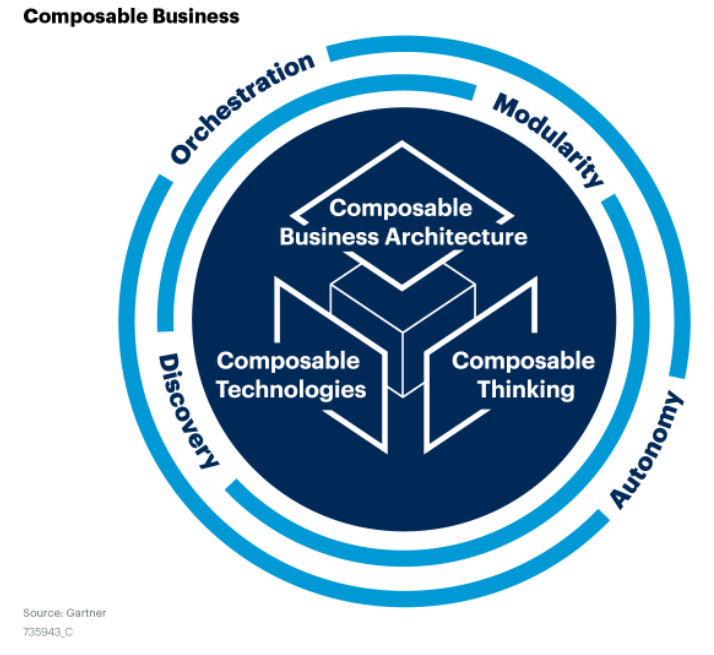 Composable thinking
Composable thinking comes from a belief that anything is composable. It leads to a culture that emphasizes the assembly and reassembly of components as the fastest, most flexible path to outcomes. It is built on a system that enables anyone (employee, customer, partner) to compose, consume or contribute. The concepts of "citizen developer" and "citizen data scientists" dovetail well into the concept of composable thinking.
In a manufacturing operations context, continuous improvement activities, lean, six sigma, etc. are analogous to composable thinking, a culture of making small meaningful process changes (disassembly/reassembly) to achieve greater outcomes — bimodal approaches to achieve next-level benefits.
Stuart Kauffman in 2002 introduced the "adjacent possible" theory. This theory proposes that biological systems can morph into more complex systems by making incremental, relatively less energy-consuming changes in their makeup.
This is a construct that applies to how smart manufacturing benefits are achieved. The adjacent possible means making an incremental improvement that then uncovers another avenue for improvement.
Manufacturing is a discipline that tends toward being risk-averse, rigid, and disciplined. But concepts like continuous improvement and bimodal, as well as the never-ending drive for higher quality, lower cost and personalized rapid delivery are inching manufacturing toward a more composable mindset to meet these challenges.
Composable business architecture
Composable business architecture is a framework to maximize the ability to build, assemble and reassemble different business elements for the digital era. Business elements that can be composed include products, services, responses, experiences, and organisations. The scope of the framework spans customer engagement, ecosystem partnerships and all operations.
In manufacturing operations context, the creation and adoption of a framework of this type become more of a holy war between platform providers as to who can provide the end-to-end platform with plug-and-play solutions that can rule them all.
Enterprise vendors in the ERP, PLM and automation space continue to evolve their platforms and add business capabilities via a combination of technology partnership, internal application development and/or acquisition with the intention of winning a zero-sum platform game.
True composable business architecture is one that is under the control of the business, not the vendor, where a marketplace of predefined vendor-agnostic interchangeable packaged business capabilities is made available for composition. This marketplace concept has taken hold in a few manufacturing operations software vendors, but more as vendor-specific applications, not vendor-agnostic PBCs.
Composable technologies
Composable technologies are digital assets packaged as discrete components that deliver independent, clear and complete business value. The assets are thus designed as building blocks for the assembly and reassembly of business processes and application experiences. The core of composability is the concept of a PBC. These are self-contained entities that provide a business capability. PBCs contain microservices, internal data and metadata, APIs, event channels and (optionally) a user interface.
In a manufacturing operations context, it's relatively easy to extrapolate functions such as batch management, production scheduling, in-process quality management and other manufacturing operations management (MOM) capabilities morphing into collections of discrete PBCs. In fact, current vendors in the space conflate plug-and-play "modules" with PBCs. However, PBC definitions (below) can be both very granular (data entity) or quite broad (digital twin).

The bottom line? Composable business characteristics are as valid in manufacturing operations as they are in other business areas, but history tells us that manufacturing operations will embrace full composability when there is:
proven governance — rules, standards, configuration management, security, traceability and the other minimum requirements for production systems.
minimal risk — and plenty of pre-defined risk mitigation capability.
minimal disruption to production operations both in the planning and implementation process, but also during complete life-cycle maintenance and support.
So, the answer to the question "Are composable manufacturing systems in your future?" is "Yes" — especially the "in your future" part.
First published on Gartner Blog Network