One of the factors that led to the widespread adoption of the iPhone during its early days was the simplicity with which technology was presented. The operating system was decided so that those with little to no technological inclination can pick it up and start to use it. At the time, competitive products required patience and persistence among their users to learn how to use the devices in their hands.
According to Forrester, reducing complexity is cited frequently when instigating an application rationalisation initiative. Complexity is often associated with higher costs and reduced adaptability or agility.
This complexity spills often into the roles of leadership. For example, a chief information officer is primarily responsible for overseeing the people, processes and technologies within a company's IT organisation to ensure they deliver outcomes that support the goals of the business, he or she is also expected to be business-savvy be better at serving the business and operational interests of the company.
A chief technology officer (CTO), on the other hand, oversees the development and dissemination of technology for external customers, vendors, and other clients to help improve and increase business.
As global CIO and chief technology and delivery officer (CTDO) of the solutions & services group at Lenovo, Art Hu arguably exemplifies the complex weave of expectations organisations have of their leaders.

The digital immune system is particularly important because it describes kind of the convergence of a set of technologies existing as well as new, that will make your operations environment much more resilient. This includes predictive maintenance; how systems auto-detect when failures occur and auto-heal.
As part of the digital immune system, information security and resilience make systems sturdier and more tolerant to failure with technology in ways that generate better outcomes for the Lenovo business.
Using technologies around digital immune systems, both at the application level as well as the infrastructure and private and public cloud levels, we're able to significantly reduce major incidents for Lenovo.
As CTDO we are building capabilities around the hybrid cloud to help companies that are looking for resilience and better efficiency of their systems, proactiveness in detecting failures and reduce downtime.
Coming into Adaptive AI, AI has been extremely active for the last five to six years, and today it has been embedded in every single piece of Lenovo across its value chain.
AI can be used for predictive forecasting and receiving feedback from the marketplace on emerging trends to help in product development, allowing companies to make much better connections to direct how the next product and service is to be developed.
Adaptive AI is seeing more use cases and applications.
What are the risks from digital immune systems and adaptive AI that keep you awake at night?
One of the continuing challenges of AI is that it is so easy to have a misconception of what the technology capabilities really are, and what is the envelope of what's possible with these technologies.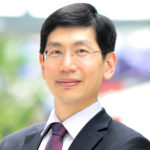 "The biggest risk around AI is misunderstanding the technology, and then using it in ways that are beyond its capabilities and finding out there isn't a business case."

Art Hu
AI is not meant to replace people, it should be augmented intelligence that emphasises working with humans for the best outcome, but it has been misused as people do not understand the guardrails or the circumstances where this technology can be used profitably.
People lose faith in AI because they're using it in ways for which it wasn't intended, or people attribute more to what might be possible without providing the right guardrails and supervision to the technology so it can work as defined.
On AI trust, risk and security management, data sovereignty and data protection laws are becoming much more developed as regulatory regimes around the world, including Europe, China and the US are pushing the pace forward on data protection and privacy.
These are AI related as AI is the largest consumer of data, which needs to be monitored and used responsibly to adapt to the shifting landscape.
Is Lenovo more inclined towards using open systems, or preferring to stick with those that are developed by other more established organisations?
The decision to adopt which system is dependent on the objective that we want to achieve and access the business value of the outcome that we are after, then let the market and various options available guide us.
We can consider whether there is an existing system or product on the market that meets the needs with the right pricing or building it for specific needs, as time is another important factor to consider.
You have two roles – CIO and CTDO, while one is internal facing and the other is external, could you elaborate more about your roles?
The CIO role is focused on deploying and building new capabilities for Lenovo's transformation. We build our internal systems to support our business and help us work with partners, suppliers, customers and internal staff, and there is also an external facing element in this role when we look at external facing systems, including services sites and partner portals.
The CTDO role is external as we think about the technology we want to build into the Solutions and Services Group for the future.
The delivery role is about providing the outcomes and delivering the outcomes that we are committed to our customers.
When you go out and meet with customers, do you present your CIO role or your CTDO role?
Both CIO and CTDO roles are about how to use technology better. It is the CIO's role to think about the right technology to be deployed to expand our business.
Example: building out the new Solutions and Services Group with all new internal systems is equivalent to building a new company from scratch. The CTDO role is about how to use technology to provide services to deliver to external customers.
Both roles are grappling with the same challenges but are also presented with opportunities around technology.
As a CTO, how do you create the technology to drive the company's strategic ambitions?
It is about building around business strategy, the happenings, and possibilities for the industry, with an example being the hybrid cloud and our managed services, and the emerging opportunities in the market surrounding the needs of customers.
Lenovo is a very large company that has a world-class set of capabilities from the pocket to the cloud. It is important for us to take our capabilities and apply that to our customers' needs of today and those that are emerging.
How do you balance the pressures and the demands of both roles and still meet expectations?
I was lucky because of the timing, that I have been Group CIO of Lenovo for the last six years and was fortunate to work with very talented people at the time of digital transformation, which allowed me to place the right strategy and the right team to help execute that.
The CTO and delivery roles are relatively new; therefore, I am spending more time on the newer elements to shape, form and refine the strategy and process.
It (CTDO) is about how we go from being a set of very talented individuals with great capabilities into a team that's really working well together in a platform, and the CIO experience allowed me to focus on problem-solving and building up with my new team.
What are your thoughts on the global headwinds including inflation issues, supply chain disruptions, geopolitical problems, and increased queries from finance on the accountability of IT to deliver the value promised?
On financial queries, the best approach to work is to be value-driven, focusing on what is needed to spend to achieve set goals, achievable via an open and honest dialogue between business and technology teams, to put IT into the context of business profit and loss.
Resilience and agility are key to addressing volatility, and uncertainties happening around the world, to be able to be adaptive and move quickly, all to be enabled by developments in technology.
"There are a lot of uncertainties that cannot be controlled, but companies can control the way they position themselves to respond and identify issues and to respond in a measured way that is appropriate and compliant."

Art Hu
Can you predict what technology will become in 5 years? Can businesses still go beyond the certain window that is realistic for shareholders to believe in?
Nobody can truly predict what is going to happen in 5 years, but business strategy, beliefs and needs will continue to guide us towards creating the right outcome for the business.
At Lenovo we not only focus on the future of technology but also on how we want technology to bring value to our customers, providing them with the flexibility to pay for what they use.
Therefore, on the CTO side, I think about how I can use technology flexibly and help other companies in the industry that are using our products to put themselves in a better position.