The news is out: social distancing and the forcing of employees to work from home is resulting in an increase in data traffic. According to Kantar's COVID-19 Barometer report WhatsApp reported a 40% increase in usage, Facebook usage up 37%, China social platforms Weibo and WeChat experienced 58%.
Recognizing a pattern, Fitch Ratings noted that the greater need for data connectivity amid the COVID-19 pandemic will support demand for telecom services, although the ability to increase the return on network investments will remain a challenge for Asia-Pacific (APAC) telcos.
Opensignal tracks smartphone users' time spent connected to Wi-Fi. Normally, the smartphone users' Time on Wi-Fi is higher at weekends and on public holidays – when people are spending more time at home.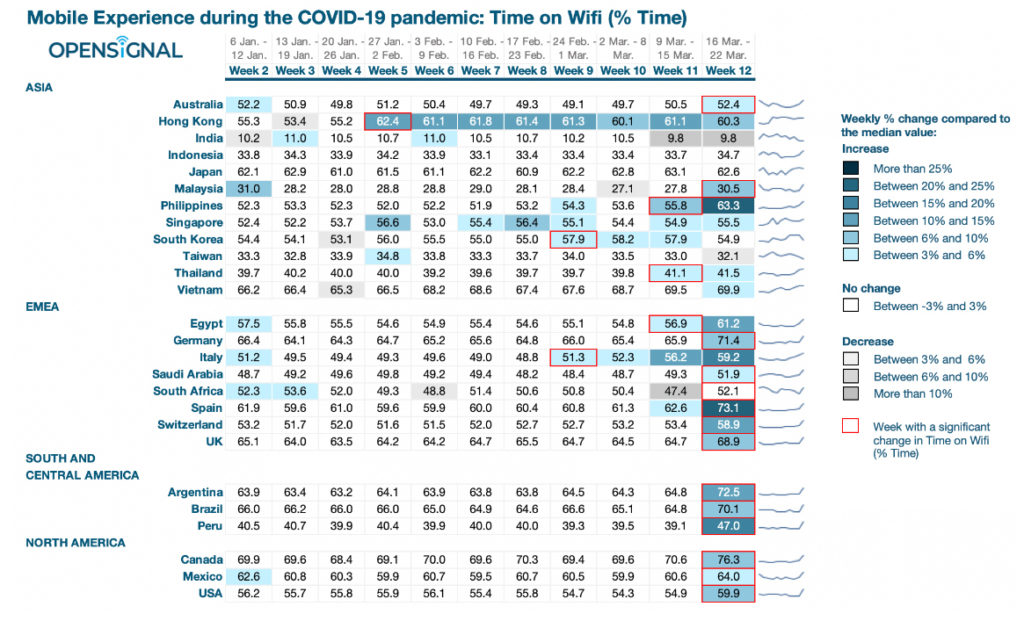 Our analysis shows Time on Wi-Fi for many of the largest economies within a region increased significantly in the third week of March in many countries in Northern America and Europe, as well as in Australia, Argentina, Peru and Brazil, said OpenSignal.
Hugo Zhu, chief technology officer at DingTalk said over 10 million enterprises used DingTalk's remote working programs and over 120 million students across China have resumed classes through DingTalk following the outbreak. "With data-heavy features such as video conferencing and live streaming, DingTalk tapped Alibaba Cloud's extreme scalability to deploy more than 100,000 new cloud servers within just two hours in February – setting a new record for rapid capacity expansion at DingTalk," noted Zhu.
The firm further commented that the longer-term effects of elevated data traffic will accelerate capex investment to support additional network capacity, more so in markets with under-developed fixed-line infrastructure.
Fitch expects the growth in telecom revenue to lag behind data consumption, as telcos are seldom able to price data to capitalise fully on the rapid growth in traffic.
Some telcos have offered larger data allowance while maintaining current price plans as part of their response efforts. For example, in Singapore MVNO TPG Telecom Singapore launched its "50GB for $10" plan setting a new entry point for Singapore consumers seeking the best mobile plan offer with 50GB data, 300 mins local calls and 30 local SMS.
The move by telcos to offer larger data allowances for the same price points, comes at a time when overseas travel took a sharp decline owing to travel restrictions in many countries.
Richard Tan, acting ceo of TPG Telecom Singapore, sees a definite increase in mobile data usage given the current situation with COVID-19, especially during the daytime.
"However, it will not be as much as the increase in Wi-Fi usage at home, where many people are encouraged to work from currently," he added.
But he doesn't worry given Singapore's well-developed wire and cellular network infrastructure. "Whether we conduct online meetings at home or on the go, we face fewer network issues as compared to other countries in Asia," he commented.
Of course, that connectivity comes at a price – at least for operators like TPG Telecom Singapore.
Closure of retail outlets due to self-isolation and quarantine measures imposed in some countries could also lead to slower gross subscriber additions in prepaid markets reliant on traditional distribution networks.
Depending on how long the pandemic continues, the rising use of online connectivity and remote access technology from home is likely to drive the need for greater capacity to maintain network resilience.
Counter measures against downturn
Fitch reckons it is still too early to assess the full impact of these effects on APAC telcos' capex budgets. However, it believes much of the investment will be front-loaded to cater for the near-term surge in data traffic.
Over-the-top (OTT) video streaming services such as Netflix and Amazon Prime Video are temporarily switching to standard from high definition to ease bandwidth pressure on telecom networks in the US and Europe. The Indian and Philippine governments are calling for similar measures.
Infrastructure investments
Telecom markets with developed fibre-broadband infrastructure and fiberised networks such as South Korea and Singapore are better-positioned to cope with demand better than emerging markets in Indonesia, India, the Philippines and Thailand where mobile remains the dominant platform for broadband access.
Fixed-broadband markets in these countries are significantly under-served due to the limitations of fixed-line infrastructure.
Telecom services in India and the Philippines rank the highest in Fitch's portfolio in terms of average capex intensity, at around 40%, compared with the mid-20s average for the region.
Covid-19 to slow 5G rollout
Fitch expects most telecom markets in the region to depend on existing long-term evolution (LTE) and LTE Plus technologies to provide sufficient speed to cater for data demand in the next few years.
The promise of 5G's ultra-speeds and low latency could provide mobile-only operators a cost-effective solution to offer fixed-wireless broadband services to address fixed-line network limitations.
However, a prolonged disruption in supply chains could delay 5G handset launches and the building of ecosystems. The momentum of 5G rollouts in these markets will depend on the affordability and availability of compatible 5G devices.
Outlook – not very good
The sector outlook on APAC telecoms has been negative since end-2019 after Fitch revised it from stable, reflecting the narrowing rating headroom following a prolonged period of intense competition, high capex and shareholder returns.
Most of the markets in the region have negative free cash flows as operating cash flows lag behind investment outlays.
Fitch says it expects telcos to take prudent capital preservation to accommodate future 5G investment.