Salesforce announced a three-year Memorandum of Understanding (MOU) with the Ayala Foundation to train 185 Filipinas with digital and CRM skills.
"Ayala Foundation believes that all Filipinos, including young Filipino women, should be able to choose to complete their education and thrive in the digital economy. Together with Salesforce and our other partners, we are dedicated to strengthening the U-Go program and broadening pathways to success for a more equitable tomorrow," said Ayala Foundation president Tony Lambino.
Salesforce training
Salesforce will conduct bi-monthly virtual workshops for 185 Filipino women between the ages of 18 to 24 and who are recipients of the U-Go Scholar Grant, a joint initiative by the Ayala Foundation and education start-up U-Go.
The participants will learn about data access, security best practices, reporting, and dashboards. Trailhead, Salesforce's free online learning platform, will be used to access at their pace learning modules, and develop skills in AI, data, and CRM. Participants can also use Salesforce solutions for various digital applications. They will be awarded a Salesforce Admin Super Set credential upon completion of training.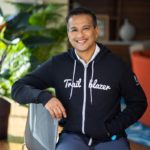 "Salesforce is committed to addressing both the digital skills and the gender gap in the Philippines, ensuring that the local workforce has equitable access to education, skills training, and career opportunities. We believe that building a diverse talent pool is at the heart of creating a foundation for resilient businesses in the Philippines, and will go a long way towards realising the country's digital ambitions," said Sujith Abraham, senior vice president, and general manager, of Salesforce ASEAN.