Information Technology Service Management (ITSM) refers to all managerial aspects of IT businesses. It includes models for IT planning, support, delivery, security and infrastructure, and other provisions for better customer service.
Chris Zhang, research manager, IDC Asia/Pacific Software Research Group said key investments and use cases in the APEJ region for system and service management tools have been to achieve greater agility, to modernise applications, to create access to functionality, and show better ROI in IT spending that invests in operations and services.
"Markets that constitute this segment, such as IT operations management (ITOM), IT automation and configuration management (ITACM), and IT service management (ITSM) have been knitted together like never before to provide customers a seamless experience," she added.
Why are we covering it now? COVID-19 has made finance scarcer than usual as revenue and profitability decline for many whether because of a drop in sales, higher operating costs, and difficulty to pursue growth strategies, including Mergers & Acquisitions.
FutureCIO spoke to three executives to get their perspective on the prospects of ITSM in the near-term: Daphne Chung, research director for cloud services, IDC; Jerry Tng, vice president Asia Pacific, Ivanti; and Padraig Byrne, senior director analyst, Gartner.
What have organisations been doing wrong (or at least not doing well) with ITSM today?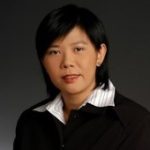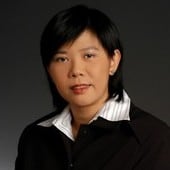 Daphne Chung: I'd describe it as a fragmented approach. A focus on process improvement alone cannot adequately address the complexity of a digital and/or physical hybrid enterprise.
The traditional approach is giving way to broad integration with line-of-business applications, the use of machine learning to interpret signals from a range of sources, and the federation of digital assets.
Jerry Tng: The biggest challenge today is resolving issues as quickly as possible to allow users to remain productive. As support cases get moved from Level 1 through to a subject matter expert, there needs to be a way to make sure that information can be collected from remote devices without having to ask the user lots of questions.
Each time a case is moved to another person, those questions may be asked again. Then having to have manual interactions between the user and support staff is time-consuming and expensive. The best scenario is allowing users to solve their issues by providing as much automation as possible allowing end-users to trigger resolutions without having to interact with a support team member.
What is hyper-automation, and how does it impact ITSM?
Daphne Chung: Automation has been an increasing part of the management of infrastructure as the complexity if the latter continues to grow exponentially, organisations are deploying more tools in an integrated fashion that addresses more and higher levels of management and we see ITSM solutions evolving to include more of these tools as table stakes.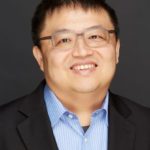 Jerry Tng: Hyper Automation is a higher level of automation than what users experience now and is where up to 80% of tasks would be fully automated. Right now, most tasks can be part automated but still require a level of manual interaction.
Think of a user requesting leave or a new hire onboarding task, some of it is automated but users are still involved. Hyper Automation is a level where devices can sense they have an issue and automatically perform self-healing without the user even knowing.
This would free up support teams to work on projects that enable a business to grow or get a competitive edge and not waste time on putting out the fires.
How does AI, automation and ITIL come together in ITSM?
Daphne Chung: The advent of AI-first, extensible, integrated platforms which can manipulate and monitor the digital aspects of the hybrid enterprise allows for the creation of a new, outcome-oriented approach to service management.
Jerry Tng: ITSM is about providing users with a service. Delivering that service traditionally was done manually by support teams and is common now with a basic level of automation. A lot of things being requested by users are common things requested by others so it made sense to automate these so that they can be repeatable and the same every time. The more that can be automated, the quicker the service response would be to the user.
AI simply replaces the support person so that you can communicate with support instantly and resolve your issue or fulfil your request without the need for a human to be involved.
Padraig Byrne: My colleague Chris Matchett has written extensively on this (rise of Artificial Intelligence in ITSM or AITSM) in the past year, and is one of the most exciting emerging areas in ITSM. It was identified in the recent hype cycle as a Trigger side technology: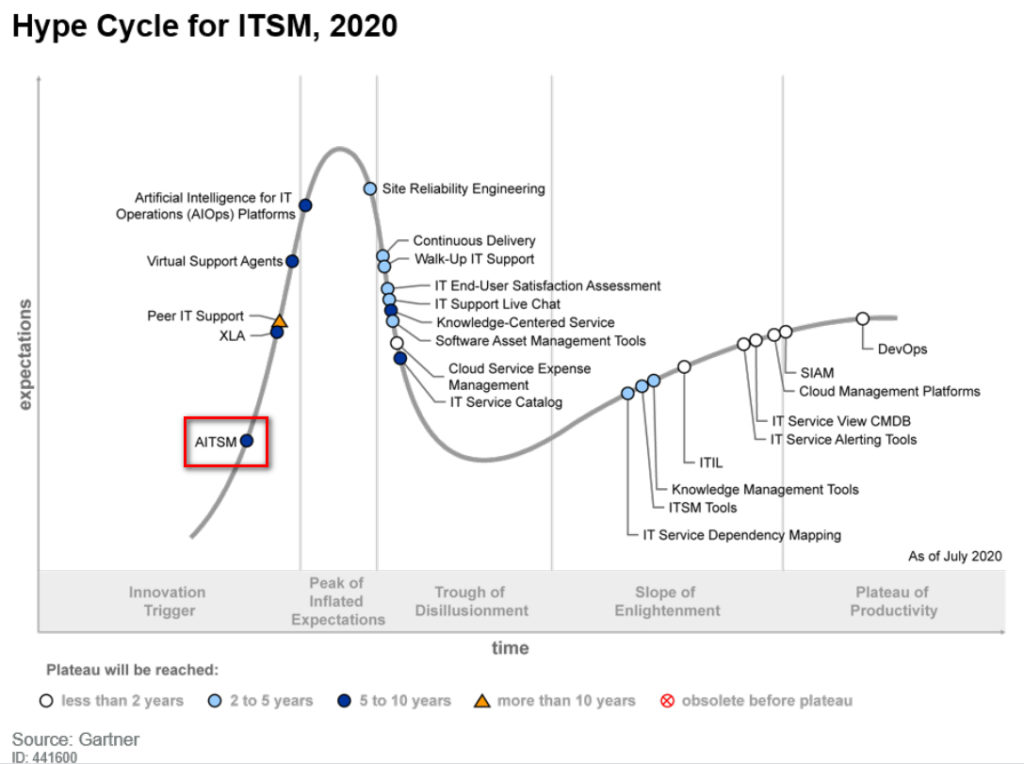 There are two overarching benefits provided by this domain of AITSM: speed and accuracy. AITSM advice helps human agents find answers and make cognitive connections faster, and "prefills" forms with this information.
AITSM advice aids accuracy by highlighting information relevant to a situation that human agents might miss either because they are not aware of the related data or because they do not have time to find the related data.
Will AI and automation remove the need for ITSM?
Daphne Chung: No. ITSM uses/incorporates AI and automation tools to address the increasing complexity of infrastructure management.
Jerry Tng: AI and Automation won't remove the need for Service Management, as users will still require these services to be provided. It will only allow things to be provided much closer to real-time and allow organisations to reduce the amount of support staff needed, perhaps either to reduce headcount or repurposing those staff into other areas of the business to help drive up value.
What kind of skills does one need to progress in the hybrid, multi-cloud infrastructure management world of today?
Jerry Tng: I would say the biggest skill is the ability to adapt to change. As infrastructure landscapes shift, you need to be able to figure out how your organisation can take advantage of new things and implement those changes quickly to give you an advantage over others.
Padraig Bryne: In the past, one could make a career in a particular area of expertise. For example, it was possible (and still is for many) to spend a career as a deep expert in network, or as a systems administrator, or as a database operator.
Today, these systems are available as an API in the cloud, allowing the user to concentrate on building services rather than maintaining systems. This has led to the rise of the "versatilist".
Versatilists are employees who can move around an IT organisation or beyond to perform a wide range of roles because they have depth and breadth in skills and competencies. A technology versatilist should be curious to learn new things and understand overall technologies and the relationship between different technologies.